Amazon HQ2 Search Narrows to 20 Cities, We Rate Them
Amazon released a list today of 20 cities that are the finalists in its HQ2 search. The company stated last year they would decide in early 2018 on the next location for their 50,000 plus employee HQ2 in North America and this list represents the first response from Amazon after receiving 238 proposals.
The list contains a few surprises in inclusion and exclusion of cities. So here is the full lineup of metros that made the cut with a bit of commentary on each.
The Cities That Made It
Atlanta, GA – "A" leads the alphabet, so Atlanta is lucky to be the number one spot alphabetically on Amazon's list. But realistically, I believe it is also Atlanta's bid to lose. The city just ticks about all the necessary categories Amazon outlined in the RFP.
Austin, TX – Another no-brainer on the list, but I still believe the Airport and public transportation issues in Austin make it only a "second choice." While it has a large tech sector, it is mostly small to medium sized tech firms that call Austin home. And I think Austin has now lost the Texas bid with the inclusion of Dallas in the top-20. In my opinion, it's dropped to "second choice" after Dallas and falls out of the top-5.
Boston, MA – Existing tech sector, the best Universities in the country, and a perfect public transportation system all make Boston a very viable option. But Massachusetts is also known as Taxachusetts and that could be a problem if the final decision comes to down to an incentives package as apparently none was offered. With all the positives Boston has to offer, Newark's $5 billion in incentives is hard to beat for any area in the Northeastern U.S.
Chicago, IL – The metro area is trying to build a tech sector. Airport(s), public transportation, and other secondary considerations are good in Chicago. I still think the areas only has an outside shot and it would need a massive tax incentive to lure Amazon to Cook County.

Columbus, OH

– Nice area, great food in the German village. Ohio State can provide an excellent source of graduate talent and interns, and cost of living is very reasonable,. But overall, I am still a bit surprised Columbus is in the top-20.
Dallas, TX – That Dallas Metro area is home to AT&T and other big tech giants. After Atlanta, the airport provides the best connections for global travel and Texas offers many quality Universities for a deep graduate talent pool. It also ticks very high on the things to do list, and its public transport system is getting a lot better. I think Dallas is a top 5 candidate now.
Denver, CO – Another city that clearly should be in a top 20 list, but I think would have to provide a lot of tax incentives to convince Amazon to open HQ2 there. It is known for producing alcohol infused water with a hint of taste (Coors Light), gorgeous natural surroundings with a high quality of life, and the area has a burgeoning tech sector. But is this enough to lure Amazon, who seems to favor more eastern U.S. locations?
Indianapolis, IN – The city is home to the Indy 500, Brickyard 400, NFL Super Bowl Champion Indianapolis Colts, and has one of the best steakhouses in the country in St. Elmo. Cost of living is very low and the city has done a lot to revitalize some areas. Despite Salesforce and Angie's List calling the city home, I just don't see it being a real contender.
Los Angeles, CA – The area has no real functional mass transit system, traffic sucks, cost of living is high, California is not a business-friendly state, so why is it on the list?Someone must represent the West Coast! If given the choice between Los Angeles and San Diego, I would pick San Diego. But I don't think any California city ever had a real chance.
Miami, FL – I live in South Florida and unless Amazon plans to use HQ2 to expand to South America, it is just another example of an area that should be in the top-20, but really doesn't tick many of the requirements in the RFP. With that said, the inclusion of Miami does make one wonder about Amazon's expansion plans and how important HQ2 would be for them. And if Amazon comes to Miami, a few more cows will have to make room.
Only 10 More to Go…
Montgomery County, MD – There seems to be a keen interest by Amazon to be near Washington D.C. It even included the city in the final 20. But as anyone that ever has been to the area, it would be challenging to envision Amazon HQ2 in Washington D.C.
Nashville, TN – Another really nice area like Columbus, OH. It is home to country music's elite and the surrounding area offers a lot of extensive quality of life advantages. But just like Columbus, a bit surprising to find the area in the top-20.
Newark, NJ – $5 billion lands you on the list. That is the reported tax incentive package offered by New Jersey to Amazon to make Newark its HQ2 home. And the proximity to NYC, top-notch East Coast Universities, an existing strong tech sector, more reasonable cost of living vs. NYC or Boston, and there are lots of reasons beyond the $5 billion for Newark to have a good shot at HQ2.
New York City, NY – Just like in the Montgomery County, MD case, Newark is the more likely spot for Amazon in the greater New York area. Can anyone really make a case that Amazon would open a 50,000 employee HQ2 in NYC? Not to mention the state of New York isn't the most tax-friendly place around either.
Northern Virginia, VA – Copy & Paste everything I said about Montgomery County, MD
Philadelphia, PA – In 2017, one in four new jobs in the metro area was a tech job. That places the city only in second place after San Francisco. With plenty of new talent at surrounding colleges, functional public transportation system, good airport for travel, and Philly Cheese Steak sandwiches. What is not to love about Philadelphia? Ok, the winter weather is a bit brutal, but I think Philly might be the leading dark horse candidate for HQ2.
Pittsburgh, PA – A blue collar town trying to reinvent itself. It already boasts over 1,600 tech firms in the metro area with giants like Google, Uber, IBM having an office in the city. Considering that tax incentives from the state of Pennsylvania would apply equally to Philadelphia or Pittsburgh, I think it would take a lot of local incentives to sway Amazon to pick Pittsburg over Philadelphia. Call it my dark horse candidate number 2, following Philly.
Raleigh, NC – Home of the Research Triangle, which refers to the top Universities that product tech talent, offer exceptional research facilities, and the area has historically been home to many entrepreneurial tech and biotech firms. With a highly contentious battle between a newly elected Democratic governor and a very conservative legislature, and numerous tech companies having pulled back expansion plans in the state, it sure makes it an uphill battle for Raleigh. The area should be in the top-5, but politics may play a huge role here to keep Amazon away.
Toronto, ON – Canada's sole representative on the list. Just about everything that Amazon desires in its RFP, Toronto offers. And the city is leading the way toward a new tech-oriented life with many innovative firms in the metro area. And I am sure Canadian PM Justin Trudeau would love to best President Trump in bringing Amazon HQ2 to his country. Biggest problem, and maybe the one that will kill Toronto in the end, travel between the U.S. and Canada requires international customs clearance every time. The fact that Amazon mentioned good travel connections to several of its cities where it has offices, would make traveling in and out of Canada a chore.
Washington D.C. – Jeff Bezos owns a home in D.C., and he owns the Washington Post. Having an office in the heart where domestic and international policies are shaped every day makes a lot of sense. But Washington D.C. as the actual location less so. There is a reason why two areas, one to the north and one to the south of Washington D.C. are on this list. If Amazon decides that being close to the nerve center of policy making is important to the company, I predict it would pick from one of the neighboring areas.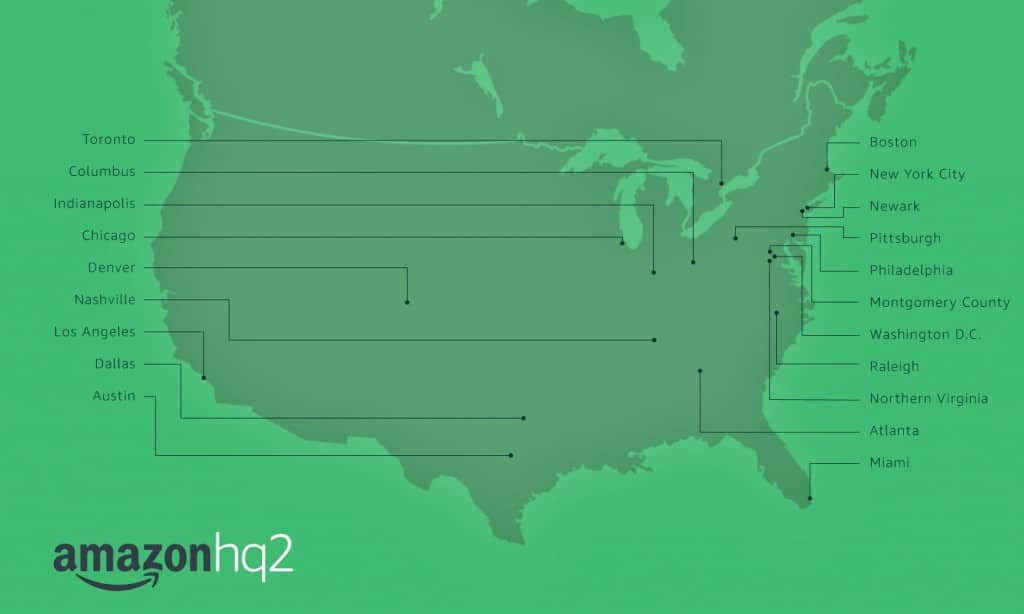 The Missing
San Jose, CA – San Jose Mayor Sam Liccardo has repeatedly said that the city won't give special tax breaks or subsidies to Amazon. Many of the legacy tech companies expand outside of the area because the cost of living is out of control. It's not a place anymore for expanding an existing operation, but one where you start new ideas.
San Francisco, CA – What is true for San Jose, is mostly true for the rest of the Bay area. Unless you have a super high paying job, who can afford to live there? Amazon HQ2 is to include a lot of support staff and even Bay area companies move those positions to Salt Lake City, Austin, and other more affordable locations.
Salt Lake City, UT – This one is my biggest surprises. The area has a lot of tech jobs with companies like eBay, PayPal, and many other calling SLC home for support staff. And it would score high on many of the requirements in the RFP. But one just needs to look at the list, most of the cities are in the Eastern or Central Time Zone with 16 being east of the Mississippi. Only one city each is in the Mountain Time zone (Denver) and Pacific Time zone (Los Angeles). It just appears that Amazon wanted to make it look good that it was considering candidates across the nation, but in reality, wants something closer to the East Coast.
St. Louis, MO – The area can't get a break. What are they doing wrong? At one time home to the largest defense contractors, but since the end of the Cold War has become more known for its high crime rate. But Chicago is on the high crime list too, and just as with Chicago, St. Louis has some very nice suburban areas where the crime issue is not really a factor. Also, St. Louis is home to the prestigious Washington University and most state schools such as the University of Missouri, Columbia and Missouri University of
Science and Technology, Rolla are less than a two hour drive time away.
Cincinnati, OH – Amazon is building out CVG airport as its main air hub. CVG is also a secondary hub for Delta Airlines, just as Seattle is a secondary hub for Delta. Proctor and Gamble and eight either Fortune 500 companies call Cincinnati home along with a host of companies having major subsidiaries in the area. Columbus' package must have been pretty damn good to sway Amazon away from Cincinnati and Cleveland.
Cleveland, OH – The other city in Ohio that was beaten by Columbus. Same question as with St. Louis, what are they doing wrong not to make the top-20. There has been a lot of revitalization of the city, and while the Cleveland Browns are the worst team in the NFL's history, that shouldn't keep Amazon from going there. Did OSU (Ohio State University) tilt the scale toward Columbus that much?
238 Applied, 218 Didn't Make It
Not going through the full list of those that didn't make it. There are clearly many other major metro areas such as Charlotte, NC, Kansas City, MO, Phoenix, AZ, Memphis, TN, Houston, TX, Birmingham, AL, and over 200 more metro areas whose application did not convince Amazon.
The company has a clear bias toward a city located in the Eastern part of North America. After considering the 20 cities, it these are the top-5 in my order:
Atlanta, GA
Dallas, TX
Newark, NJ
Boston, MA
Philadelphia, PA
While Amazon doubled down on the Washington D.C. area with three greater D.C. metro options, I think the top-5 mentioned above have a much better chance.
And I now take Austin off the list as I think the only city in Texas that can provide the global and local transportation desires by Amazon is Dallas.
While I firmly believe Toronto would be a very good fit, I just see the continuous travel across an international border as a sticking point. Sure, Global Entry makes it much easier and Toronto's airport recently upgraded to a modern semi-automated customs area, speeding up entry into Canada.
But many foreign nationals require electronic travel authorizations (eTA/Canada or ESTA/US) for either country or in some cases special visas. Ultimately, the tech industry employs a lot of foreign nationals, and to me, that makes any Canadian location a bit more problematic for Amazon.
Who do you think will Amazon eventually chose from the top 20 areas? Drop us a line in the comments section below.
Richard Meldner
Richard is co-founder of eSeller365. He has over 17 years of experience on eBay which includes tens of thousands of sales to buyers in over 100 countries and even has experience with eBay's VeRO program enforcing intellectual property rights for a former employer. And for about two years Richard sold products on Amazon using Amazon FBA in the US.
To "relax" from the daily business grind, for a few weekends a year, he also works for IMSA as a professional race official.
Subscribe to Our Newsletter
We do not sell your information.
You can unsubscribe at any time.