Amazon and Kohl's Form Another Partnership
Amazon and Kohl's announced they formed another partnership. This time, 82 Kohl's stores in Chicago and Los Angeles will soon accept return items from Amazon.
Amazon customers in these markets can now take products they purchased on Amazon and have Kohl's pack and return the item to Amazon for free.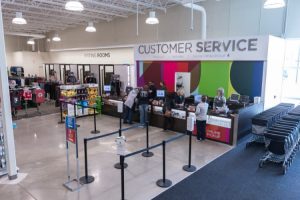 This announcement comes on the heels of Amazon and Kohl's first foray to work together by building 10 Amazon Boutiques inside Kohl's stores that will sell Amazon-branded tech devices like the Amazon Fire and Amazon Echo devices.
The cities chosen for this free return program are the same as in the previous announcement with the Amazon Boutiques stores.
Except for this time they seem to include all Kohl's stores in those metro areas.
WHAT IS BEHIND THIS MOVE?
Neither company explained the rationale behind this partnership. However, the fact that it is the same metro areas as the earlier announcement seems to indicate both companies are working toward further collaboration and using both Chicago and Los Angeles as test markets.
With 1,100 stores, Kohls' has a large footprint of retail locations around the United States.
It appears future expansion plans of this partnership now may include both programs at the same time.
Kohl's indicated they are looking for increasing foot traffic. But what is Amazon's real goal in this partnership? Is it really just to be a Kohl's Featured Shop?
With Amazon taking a huge lead in eCommerce on Fashion and Accessory items, it seems the two would be competitors outside the tech products.
Kohl's does own the rights to some fashion brands that could be of interest to Amazon. Also, with a market cap of $7.65 Billion, it is almost a "bargain" in comparison to Whole Foods Markets.
The expansion of their partnership just leads to more speculation.
Will Amazon start selling Kohl's owned or licensed fashion brands on its platform?
Is this just the beginning of another purchase by Amazon and the company is "testing" owning a Departments Store?
What do you think is going on here? We love to hear your thoughts on this partnership in the comments section below.
Connect with us: Head over to our Facebook Group for Small Business Sellers and interact with other small business owners.
Follow us on Facebook, Twitter, or LinkedIn to stay up to date with relevant news and business insights for your online business.
Subscribe to Our Newsletter

Business Insights for Your Online Business Presented with a Dash of Humor
We do not share your information and you can unsubscribe anytime.