Amazon Prime Hits 90 Million Members in U.S. According to CIRP
CIRP, a consumer research firm, released a report this week that estimates Amazon has about 90 million Prime members in the United States.
Prime Members continue to vastly spend more on Amazon purchases by almost 2 to 1 margin ($1,300 vs. $700 annually). The research firm also estimates that about 63% of Amazon customers are Prime members.
"Amazon Prime membership continued its steady growth as in recent quarters. Membership grew 6% in the most recent quarter, the same rate as in the June 2017 quarter, and better than the 3% in the year-ago September 2016 quarter. Over the past twelve months, Prime grew by 38%, 

the same growth rate as in the same twelve-month period the year before, from October 2015 to September 2016."

Josh Lowitz, Partner and Co-Founder of CIRP
The research also shows that Amazon Prime members are very satisfied with the value they receive from the company. On average, about 95% of all Prime members stated they would definitely or probably renew their membership.
To compare this rate, a recent story by The Motley Fool indicates that membership renewals at Costco are around 90 percent.
However, Costco's sales growth is dipping a bit, while Amazon's continues to increase and the cost of a basic membership is $60 (Costco) vs. $99 (Amazon) annually.
Amazon is able to gain higher renewals with a more expensive membership program, but it also offers additional value such as video (TV and Movies), music (2 million songs), and cloud space (5 GB).
Fun With More Numbers
Now let's take a look at more numbers to demonstrate the penetration Amazon has been able to gain with its Prime Membership.
Total Population U.S.: About 323 million
Total U.S. Households U.S.: About 125 million
Average Number of members in a U.S. Household: 2.58
While the Amazon Prime Membership estimate includes Business customers and does not distinguish between households having dual or associate memberships, one could argue that with 90 million Prime members and 125 million households, Amazon Prime is found in over half of all Households.
No matter how you spin these numbers, Amazon's reach continues to grow. And even with Walmart and others coming after the eCommerce giant, there is no reason to believe the growth is stopping anytime soon.
Small Businesses Must Consider Amazon Marketplace
It can't be stressed enough that small eCommerce businesses must at least consider selling on Amazon. There may be some legitimate reasons why sellers won't sell on Amazon, but the sheer scale of the company cannot be discounted.
And with Prime members outspending non-members by almost 2 to 1, Amazon FBA is almost a must do.
Our new infographic speaks for itself! Please feel free to share it 🙂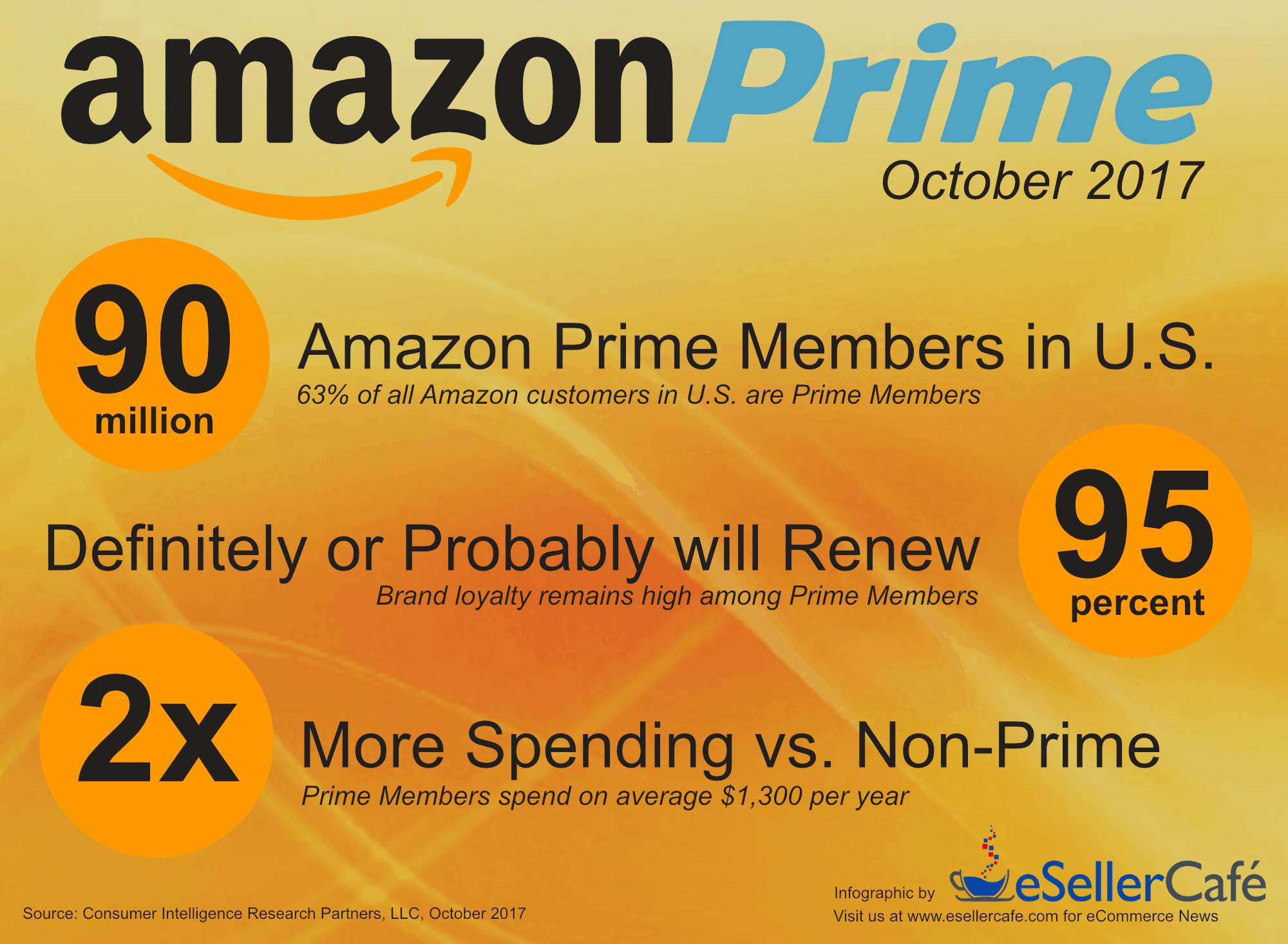 We love to hear your comments about Amazon and if you are using the Amazon Marketplace to help your business. Please use the comments section below.
Richard Meldner
Richard is co-founder of eSeller365. He has over 17 years of experience on eBay which includes tens of thousands of sales to buyers in over 100 countries and even has experience with eBay's VeRO program enforcing intellectual property rights for a former employer. And for about two years Richard sold products on Amazon using Amazon FBA in the US.
To "relax" from the daily business grind, for a few weekends a year, he also works for IMSA as a professional race official.
Subscribe to Our Newsletter
We do not sell your information.
You can unsubscribe at any time.