Amazon Suspends Well Known Brands For Involvement In Fake Review Schemes
We reported recently how the team over at Security Detectives had found a vulnerable database linked to merchants and customers dealing in a fake Amazon review scheme which was seemingly based out of China.
Well, it appears that Amazon has now taken action regarding this and has started suspending some well-known Chinese manufacturers from selling on their marketplace.
First reported by Marketplace Pulse there are over a dozen brands including:
Mpow
Aukey
VicTsing
Tacklife
Austor
Vtin
Seneo
Homasy
Homitt
LITOM
TopElek
OMORC
TRODEEM
Atmoko
HOMTECH
OKMEE
and others.
These suspensions were not only put in place on the US marketplace but across all international Amazon marketplaces too.
Amazon Making A Statement On Fake Reviews
Of the list of manufacturers facing the suspension, Mpow and Aukey are perhaps the most well known, notably in the small consumer electronic vertical.
Both of these brands have accumulated tens of thousands of reviews across various product listings and perhaps due to their size is how they have managed to evade any repercussions so far. Why Amazon has decided to act now remains a mystery but it would seem too much of a coincidence that the timing overlaps with an increased focus on the fake review problem Amazon has been facing.
This statement from Amazon is clear. They don't care how big a brand is perceived to be, if you don't play by the rules or get caught out then you will be punished accordingly.
As well as pulling the listings from sale, Amazon have also started deleting thousands of reviews against the offending manufacturers products.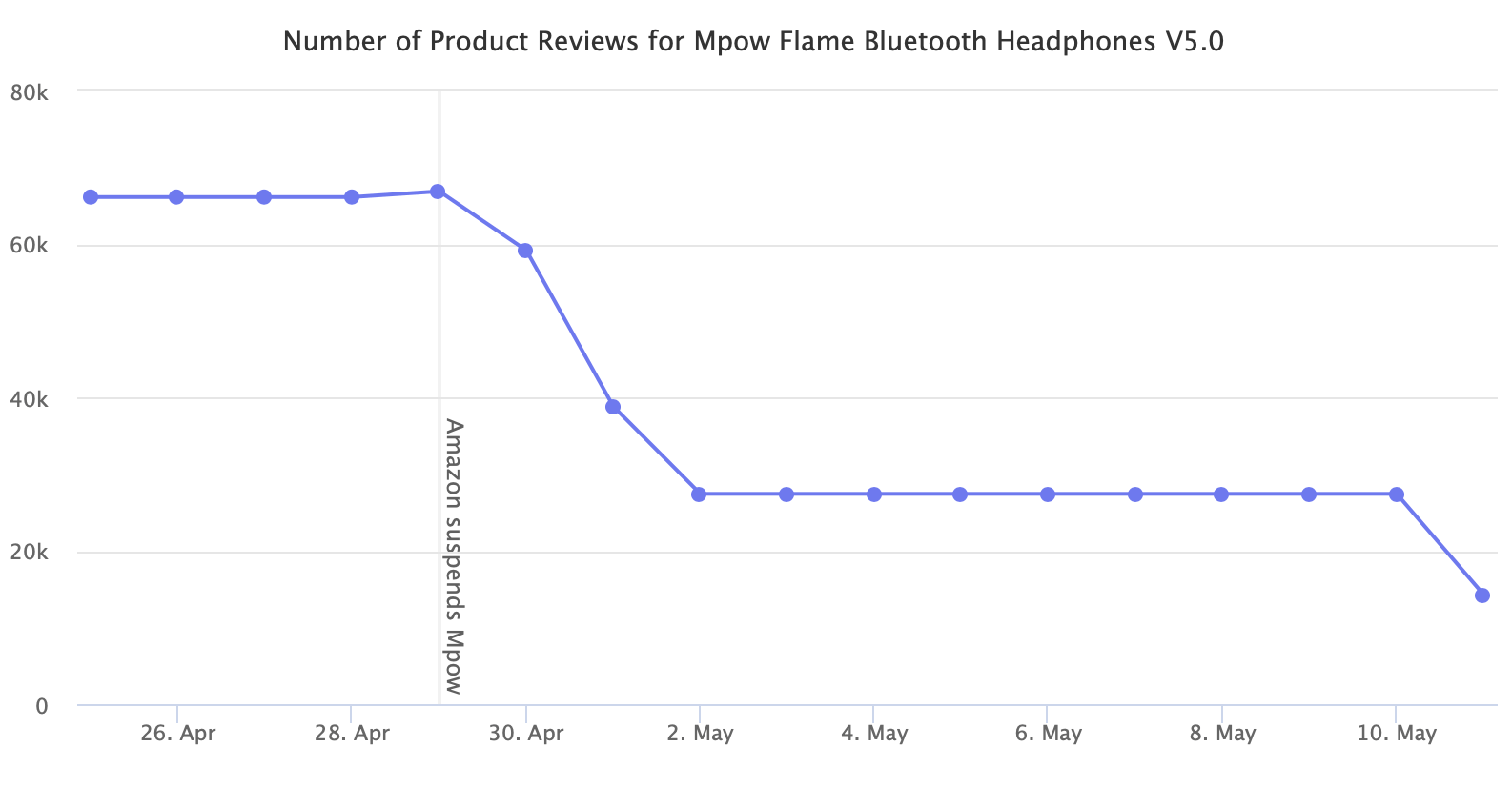 As you can see in the above image from Marketplace Pulse that since Amazon suspended Mpow, they have also removed approximately 55,000 product reviews from one product listing.
Amazon has not announced a statement directly relating to what they have been doing other than their Brand Protection Report which was aimed at counterfeit products and not merchants who were taking part in prohibited review scams.
Needless to say this should act as a big wake up call to any business suspected of taking part in any false review schemes as Amazon have made a bold statement with this round of suspensions.
Connect with us: Head over to our Facebook Group for Small Business Sellers and interact with other small business owners.
Follow us on Facebook, Twitter, or LinkedIn to stay up to date with relevant news and business insights for your online business.
Subscribe to Our Newsletter

Business Insights for Your Online Business Presented with a Dash of Humor
We do not share your information and you can unsubscribe anytime.