For most small business owners, customer complaints often feel personal. Most owners don't want to hear about problems, and some even take issues very personal.
In the world of eCommerce, it can get pretty easy to "hide" from customers. eBay and Amazon don't allow to post phone numbers, so all interaction is by email. This distancing makes it easy to ignore complaints.
While technology provides lots of avenues for customer interaction, how many business owners take the time to clearly post contact information or make themselves available for customer complaints? In many cases owners don't use the right technology tools.
Maybe you believe you are doing a good job at customer service. You provide easy to find contact information on your site and include contact info in your shipments.
But if you are a small business or a micro business, you are unlikely working 24 hours a day, 7 days a week. Phone calls end up in voicemail and emails are pushed down the list as more emails arrive. They are forgotten or easily overlooked and ignored!
Or you feel you are just too busy to deal with the messages you receive. Your business is doing well and a few complaining customer do not matter much to your sales.
In the competitive online retail space, ignoring unhappy customers may costs you more than just a single client. It may cost you real money, in many cases more money than if you completely refunded a purchase!
Let's pick a few stats from a blog post by Sales Force.
45% of U.S. consumers will abandon an online transaction if their questions or concerns are not addressed quickly
It is 6-7 times more costly to attract a new customer than it is to retain an existing customer
89% of consumers have stopped doing business with a company after experiencing poor customer service
A customer is 4 times more likely to buy from a competitor if the problem is service related vs. price or product related
45% of companies offering web or mobile self-service reported an increase in site traffic and reduced phone inquiries
SELF SERVICE CUSTOMER SUPPORT – FIRST LINE OF SUPPORT
The last point is critical as eCommerce is a 24/7/365 business and as a small business owner, you probably are not available all the time.
Even during eBay Open 2017, the company admitted that they are revamping their entire self-service customer support portal as the current product is antiquated and outdated. But eBay is also adding more customer support agents to provide the personal service when needed. They are changing the their customer service culture.
This example is where you as a small business owner can take a page from the big guys. And for you it doesn't cost that much to implement. Unlike eBay you don't need a custom solution.
THE RIGHT TOOLS TO THE RESCUE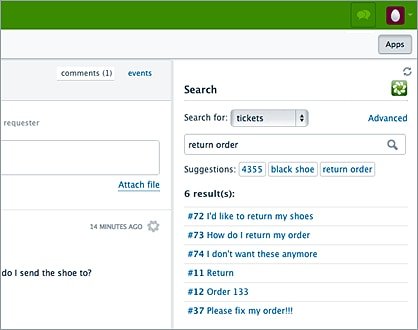 You may have heard of services like ZenDesk or FreshDesk. They provide SaaS customer support portals. In most cases, you can find a plan for under $50 per month that will just about do everything you need.
For that price you get a ticket support system to track customer contact, workflow and macro automation, translation services, answer bots, community forums, internal knowledge base, public knowledge base, scripts, and more.
Compare different customer service software and find the one that fits your business the best. Most important, don't be alarmed by the per user/seat pricing. Start out with one user, that's all you need to get going.
You do need to spend the time to implement them correctly and write KB (knowledge base) content. But that is a great investment for saving time and money in the future.
If you are willing to spend more money, you can easily find services or add options that integrate live chat and phone support/routing.
And for those on a real tight budget, there are open source offerings for self-service portals such as Hesk.
CUSTOMER RETENTION IS MUCH CHEAPER
The other important point in the five key stats above is customer acquisition cost. On average it is 6 to 7 time cheaper to keep existing customer than find new customers.
Even if you have a brand new client and you have to refund this customer the full purchase price plus all shipping costs, you likely find that is still cheaper than wasting time arguing with the client.
That one customer may come back to you with more purchases because you took care of the problem. Of course, you don't know who will and who won't come back, so tracking the extreme support cases is important. At this point, this becomes a marketing expense.
You want to know the cost of those situations and then compare the costs of all cases with the revenues from those customers that continued to purchase. In most cases, you will find that is still cheaper than your other marketing campaigns.
CUSTOMER SERVICE AS A MARKETING TOOL
The first statistic in the above list is telling. Nearly half of potential customers will abandon a transaction if their questions or concerns are not addressed.
So how about showing the world your world class customer support? Sound scary?
Don't be afraid if you are willing to keep up with social media and engage customers.
On one of my recent business trips, I became that frustrated customer. Admittedly, I get very frustrated with the flying public and my personal social media feed is full of the "joys of travel" stories.
Anyway, in a moment of jest, I decided to tweet to American Airlines that priority customers should know better when approaching the gate to have their boarding pass ready.
American doesn't control this, but I was venting. How can a person that has priority boarding status on an airline not know they need a boarding pass? (They were waiting in the departure lounge, not running to the gate)
I tweeted to American Airlines a quip about dropping those people to the lowest tier frequent flyer status, so they lose access to the priority boarding lanes. I Never thought I would get a response! But I did.
You can see the response from American in the image, and they replied within 10 minutes!
The moral of the anecdote is you can turn a frustration, a complaint, a quip into a marketing opportunity. And the world gets to see you care about your customers and your business! (I shared this story on my Facebook page and received lots of likes!)
CUSTOMER SERVICE IS IMPORTANT IN TODAY'S COMPETITIVE ECOMMERCE WORLD
Regardless how good your products or services are, if a customer is unhappy for any reason, they are likely going to shop elsewhere.
Take a few minutes to review your customer service engagement channels. Are you doing everything you can to make it easy for your clients to reach you?
What can you improve? Even if you dislike dealing with customer problems, take a look at technology options that offer more self-service solutions.
Implementing technology may reduce your personal need engage with complaints. And one way or another, that can help your business as you can concentrate on growing your business instead of being frustrated about a problem.
Do you have any good customer service stories? We'd love to hear them in the comments section below.
Subscribe to Our Newsletter Today
Stay in touch with the latest business insights for your online business
We do not share your information and you can unsubscribe anytime
Connect With Us And Other Small Business Owners
Please head over to our Facebook Group for Small Business Sellers and interact with other small business owners.
Follow us on Facebook, Twitter, and LinkedIn to stay up to date with relevant news and business insights for your online business.