DHL Invests More Than $300 Million In Booming eCommerce Business
DHL eCommerce Solutions, a division of the world's leading logistics company, Deutsche Post DHL (DPDHL) Group, announced it is investing more than $300 million in the U.S. in the next five years.
Check Out These Resources
The investment will expand its footprint in the US by adding 70% more square footage across its network. Additionally, the company will add automation to all of its US distribution center facilities and upgrade its IT operating system platform.
As a result of ongoing international eCommerce growth, DHL eCommerce Solutions is also investing in dedicated export gateways for international shipments in Carteret, New Jersey; Franklin Park, Illinois, and Whittier, California.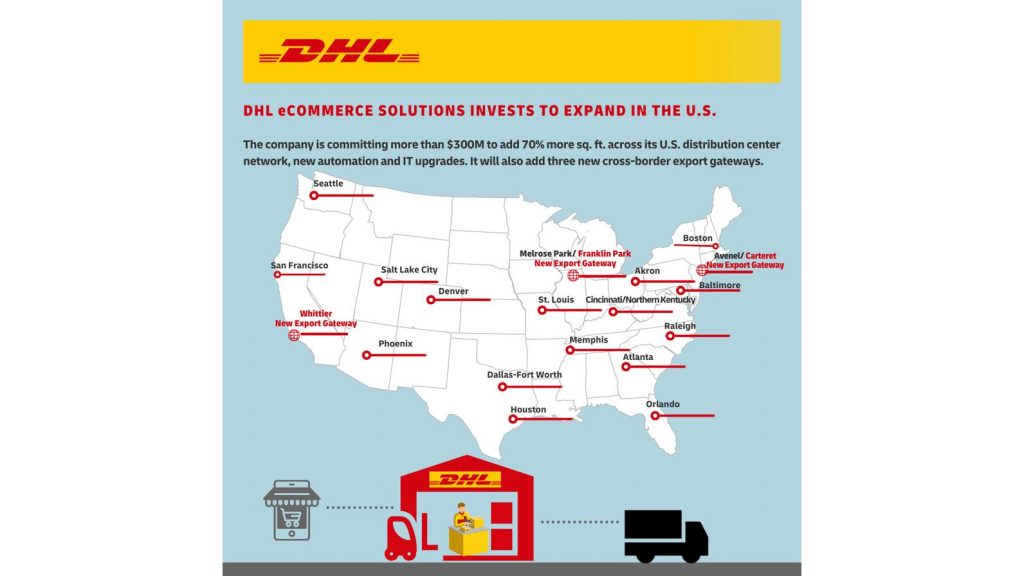 "As our network grows and we become more efficient through automation, our customers will benefit by getting their goods quicker to their eager consumers. We are investing long-term because we believe consumers will continue to buy more online, and we will see additional online shops popping up, so we want to be prepared to meet this future demand," said Lee Spratt, CEO, DHL eCommerce Solutions, Americas.
DHL Export Gateway Locations
Midwest Export Gateway Location
The company's Franklin Park 69,000 sq. ft. international export gateway opened on July 17, 2021, and includes a TSA screening area. The company will continue processing domestic parcel shipments from its second Illinois location in Melrose Park.
West Coast Export Gateway Location
DHL eCommerce Solutions' Whittier distribution center opened at the end of 2020 and expanded in August 2021. The Whittier location extended by 100,000 sq. ft. directly next door to its current location, where international parcels and packages are being processed.
Northeast Export Gateway Location
The international export gateway in Carteret will open in September 2021. The new permanent 50,000 sq. ft. building will include a TSA cargo screening area. DHL eCommerce Solutions opened its first fully automated distribution center in Avenel, New Jersey in November 2018 and will continue to process domestic shipments from this location.
The eCommerce Solutions operation currently has 19 distribution centers and three corporate offices in the United States with approximately 4,200 employees. The division is focused 100 percent on servicing B2C online merchants, shipping lightweight packages and parcels domestically and internationally.
Subscribe to Our Newsletter
We do not sell your information.
You can unsubscribe at any time.