eBay Launched New Rates For Promoted Listings Today
Today, eBay has launched a new way to charge sellers for your Promoted Listings campaigns. This is a bit convoluted, so we will try to explain it.
The first and most important part is how the company is changing what determines a click.
The company said it "will be expanding our definition of a click for Standard and Advanced ads to include interactions with new features and functionality of your ads."
What this boils down to is how eBay is attributing the sale, a Direct Sale or a Halo Item Sale.
For a Direct Sale, it's pretty easy and pretty much follows what sellers have been using. If a buyer clicks on the Direct Sale and then ends up buying that item, they will be charged the original fee, up to 30 days after the initial click.
In a Halo Item Sale, the attributing works differently. If the buyer clicks on the first item, then decides to search your store for another item that has a Promoted Listings Standard, then the price of the Halo Item Sale pricing will go into effect.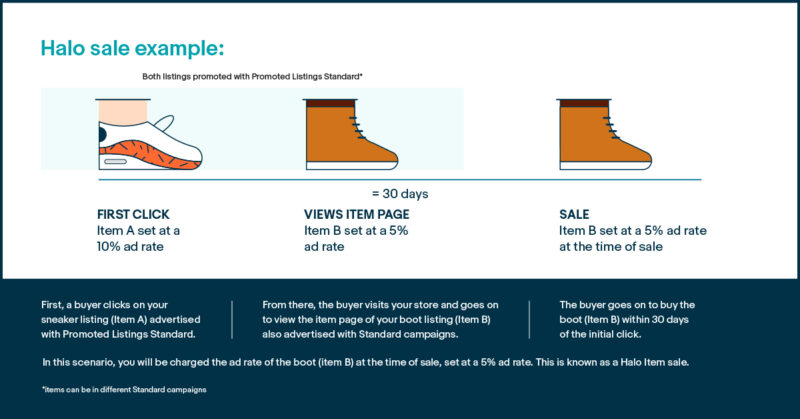 The ad fee for a Halo Item sale is calculated based on the ad rate in effect for the purchased item at the time of the sale, within 30 days after the initial click on the first item.
A key point to understand here is that if your buyer clicks on a Red scarf and then purchases a Blue scarf from the same listing, the item will be considered a direct sale because variations are not considered a different item.
Another key point is how buyers may interact with your listings. If a buyer adds a listing to their watch list, that is considered an ad click. From there it will depend on what the buyer does. Will they buy the original item or purchase another item that is part of your Promoted Listings Standard?
The only item that is a bit foggy is how long this Promoted Listing item will be considered an advertisement. We assume that it will be the same 30-day period, but eBay wasn't exactly obvious about this scenario in its examples. But, if a heart item is removed, then it will no longer be counted as an ad click.
How Will This Impact My eBay Advertising Expenditures?
Almost undoubtedly, it will increase your cost of selling on eBay. You may get lucky that all of your listings are just Direct Sales, in which case the final fee for using the company's ad program will remain the same.
But most people probably will see a slight increase in advertising expenditures because sellers may decide to search the store for other relevant sales that have been promoted with its Promoted Listings campaigns.
Over the next couple of months or so, we strongly suggest you monitor your ad expenditures on eBay to ensure that you are paying an ad rate comparable to what you were expecting.
Unfortunately, this is just another part of eBay's strategy to expand its take rate, which is the total amount the company is taking on average per sale on the platform.
In 2022, the company's take rate was 13.8% on average per sale. Jamie Iannone, the company's President and CEO, said recently, "We constantly look at take rate as a way to say, what's an opportunity to lean in or to grab more take rate."
It's a strategy the company will continue to use to drive more revenue from its existing sales. And as long as the company continues to bleed buyers and sellers, sellers should continue to anticipate more such actions.
If you like to learn more about how today's newly launched Advertising Program may affect your sales, refer to the company's blog post here. It will bring up numerous examples, but fundamentally, it does boil down to the specifics we mentioned here. This new plan went into effect on March 30, 2023.
Richard Meldner
Richard is co-founder of eSeller365. He has over 17 years of experience on eBay which includes tens of thousands of sales to buyers in over 100 countries and even has experience with eBay's VeRO program enforcing intellectual property rights for a former employer. And for about two years Richard sold products on Amazon using Amazon FBA in the US.
To "relax" from the daily business grind, for a few weekends a year, he also works for IMSA as a professional race official.
Subscribe to Our Newsletter
We do not sell your information.
You can unsubscribe at any time.