Many sellers on Etsy were caught off guard by the email they received from the eCommerce company last Friday. It stated that from now on the first page of search results will be reserved for listings that offer free delivery.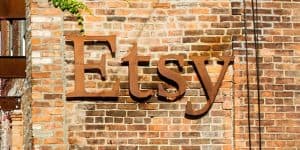 According to longtime sellers on the eCommerce platform for handmade goods, Etsy's new policy will take a heavy toll on their profit, especially for those shipping from outside of the US.
Plus, it'll be harder for buyers to find the products that they're looking for.
The email from Etsy reads as follows:
"To continue improving our buying experience, now when a shopper in the US searches for an item, the first page of results – up to 48 listings* – will be reserved for items that deliver for free and items from shops that guarantee free delivery to US buyers on orders of $35 or more. Keep in mind that 83% of purchases from search on Etsy come from the first page.

"Because you're not currently offering free delivery to the US, you could experience a significant decrease in views to your listings. To ensure your items are eligible to appear on the first page of search, we recommend setting up a free US delivery guarantee for orders of $35 and up."
The last resort for some sellers
While many sellers on Etsy believe that increasing their prices to cover the cost of shipping will result in lower sales, they're left with no choice.
Others, on the other hand, said they're switching to Shopify and regret opening an Etsy shop to begin with.
See below some sellers' reactions to Etsy's email:
"I finally had enough and switched my shop over to Shopify. Etsy has gone too far."

"I am so over Etsy. Sick of this discrimination and bullying, as a seller, as a buyer and on behalf of all the other handmade and small businesses who are just trying to make beautiful items for their customers. I sent Etsy a stinking email after getting this 'update' from them. They have forgotten to care for the selling and buying community that made Etsy the extensive shopping platform that it is."

"Yup, got this too. This is straight up bullying. My shipping is not outrageous, I'm going to start tagging my item posts on social media with my Amazon Handmade account much more than Etsy."
What do you think of Etsy forcing sellers to offer free shipping? Tell us in the comments below or over in our Facebook Group.