Former eBay Executive "If you are ever going to take her down .. now is the time"
On Monday, the US Justice Department charged six former eBay employees alleging they engaged in an aggressive cyberbullying campaign against an editor and publisher of an online newsletter (blog) critical of eBay.
Check Out These Resources
When the charges became public, eBay also released a statement in which it revealed the company investigated the role of former CEO Devin Wenig in this affair but found, "…while Mr. Wenig's communications were inappropriate, there was no evidence that he knew in advance about or authorized the actions that were later directed toward the blogger and her husband."
Wenig had abruptly left eBay in September 2019 and at the time tweeted, "In the past few weeks it became clear that I was not on the same page as my new board. Whenever that happens, it's best for everyone to turn that page over."
His Twitter explanation seemed to suggest he left because of differences in opinion on how the board should deal with the pressure by activist investors to sell off pieces of the company and refocus on the core marketplace.
However, with Monday's public revelations regarding the cyberbullying campaign, it now appears Wenig's departure wasn't that straightforward.
Even eBay in its statement addressing the matter hinted there might have been more to the departure, "…as the Company previously announced, there were a number of considerations leading to his [Wenig] departure from the Company."
FBI Agent's Affidavit Provides Disturbing Details
James Baugh (BAUGH) and David Harville (HARVILLE) are two of six defendants in the cyberbullying charges made public on Monday.
Court records include an affidavit by FBI Special Agent Mark Wilson which was filed in support of the complaint against the two defendants.
The affidavit alleges a disturbing pattern of egregious conduct by the former eBay employees charged in this matter, but also raises questions about the mindset of some of the executive leadership at the helm of eBay during this time.
In the affidavit, two eBay leadership executives are only named as Executive 1 and Executive 2. However, based on research using the information in the affidavit and comparing it with publically verifiable facts and data, Executive 1 appears to be former eBay CEO Devin Wenig and Executive 2 appears to be former eBay SVP, Chief Communications Officer, Steve Wymer.
eBay Executive Leadership Communication Excerpts From Affidavit
Warning: Contains Adult Language
Note: The first number represents the line/paragraph number from the 51-page affidavit (see link at bottom of the post to read the entire affidavit). Italicized text directly quotes from the affidavit. Images are pulled from the court filed affidavit PDF and are presented here as included in the document.
18. On April 10, 2019, for example, Executive 2 texted Executive 1, "We are going to crush this lady," sending along a link to the Newsletter's coverage that day of Executive 1's compensation.
19. On April 20, 2019, discussing the Wall Street Journal's coverage of Executive 1, Executive 1 texted to Executive 2, "Fuck them. The journal is next on the list after [Victim 1]."
20. On May 31, 2019, commenting on the Newsletter's coverage of eBay that day, Executive 2 texted to Executive 1, "Shockingly reasonable…" Executive 1 replied, "I couldn't care less what she says." Seconds later, Executive 1 added, "Take her down."
35. That day*, at approximately 1:46 p.m., Victim 1 posted an article on the Newsletter under the headline "eBay RICO Lawsuit Meant to Curb Seller Exodus to Amazon?" Victim 1's article reported on both Executive 1 and eBay's lawsuit: "[Executive 1] has been unable to stop a decline in market sales, but trying to dissuade sellers from turning to Amazon (and trying to get Amazon to stop recruiting sellers) may not be the best tactic."
* References August 1, 2019; The New York Times published an article reporting that eBay had accused Amazon in a lawsuit of unlawfully poaching eBay sellers to Amazon's online marketplace.
36. Just half an hour later, at 2:19 p.m., Executive 1 texted Executive 2: "[Victim 1] is out with a hot piece on the litigation. If you are ever going to take her down..now is the time."
37. Executive 2 responded shortly afterward by text message: "On it."
38. As set forth below, a series of text messages followed between Executive 2 and BAUGH, beginning with Executive 1's suggestion to Executive 2 that "we … take her down".
39. Executive 2 and BAUGH's August 1, 2019 conversation continued by text, with Executive 2 committing to "embrace managing any bad fall out."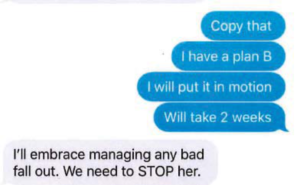 49. BAUGH told Popp, Gilbert, and Supervisor 1 that eBay's leadership supported these efforts. He later forwarded them the email below from Executive 2 in which Executive 2 complained about "Fidomaster" and "the [Newsletter] gal," and suggested that eBay should do "Whatever. It. Takes" to address them:
Note: "Bopp" and "Gilbert" are two other defendants in this allegation. "Supervisor 1" is an unnamed eBay employee apparently not charged in this complaint. "Fidomaster" references an anonymous Twitter user critical of eBay. The "[Newsletter] gal" is the victim of the allegations, along with her husband.
Absurd Obsession By eBay Leadership Executives
Neither Executive 1 nor Executive 2 are being charged by the government in this matter as they are not named as defendants in this case.
Furthermore, it does not appear the two former eBay leadership executives knew operational details about the alleged aggressive cyberbullying campaign against the blogger and her husband.
But the excerpts suggest a seemingly absurd preoccupation by both executives to try to quiet critical voices on the Internet.
For executive leadership of a company worth $30+ billion, it seems extremely obsessive to worry about what one blogger and a couple of Twitter users think about how the company is run.
As far as Wenig's departure is concerned, technically, eBay may be right when it said Wenig did not know or authorize the specific actions directed at the blogger and her husband.
But since eBay confirmed it terminated the company's former Chief Communications Officer, believed to be Executive 2 in the affidavit, Wenig's sudden departure from the company now smells of "damage control."
To read the full 51-page affidavit detailing this alleged bizarre cyberbullying campaign, click here.
Subscribe to Our Newsletter
We do not sell your information.
You can unsubscribe at any time.