eCommerce Influencer Series: Chris Morley – Retail Global
Welcome back to another instalment from our eCommerce Influencer Series.  Where we pose some eCommerce questions to our eCommerce influencer friends, to celebrate our one year anniversary here at eSellerCafe.
Check Out These Resources
In today's article we are joined by Chris Morley from Retail Global.
Chris is passionate about growing brands through eCommerce and other emerging technologies shaping the new retail environment. He has spent over 3 years in China selling Australian made food and wine to consumers and businesses using online and traditional methods of engagement.
At all times when working with clients, Chris is able to assist their growth by linking their offering to consumer needs and highlighting their product features in the most meaningful manner.
Chris is well respected in the retail industry of Australia, USA, China and South East Asia and is extremely passionate about Australian businesses growing their footprint overseas.
With that said let's meet Chris.
Q. For anyone who doesn't know you yet, who are you and what do you do?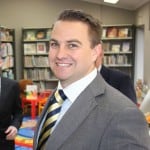 A. I am a father, a husband and an experienced retailer. I begun selling online in 2006 and ever since have worked hard as a retailer and with retailers to engage the customer as best as possible.
I am currently the Chief Commercial Officer with Retail Global – an organisation that focuses on delivering educational and engaging content for retailers across two physical conferences in the USA and Australia and through multiple smaller online events.
Q. Looking back over the past 3 years what do you think have been the biggest changes in eCommerce? 
A. Retail has always been about the consumer, In the past 3 years we have seen the consumer become more empowered than ever before and this in my view has been the biggest change.
Consumers have access to more products quicker than ever before and from a broader range of sellers than ever before.
The change in the relationship and engagement between retailer and consumer has been significant in the past few years; consumers will engage with retailers in multiple formats and through technology and social media they have a chance to engage with the brand in a more direct way a well – this becomes an interesting dynamic and poses new challenges and opportunities for retailers.
The lines between online and offline have become intertwined and the customer has more choice than ever with arguably less disposable income.
Q. Amazon obviously cannot be ignored in eCommerce anymore, do you believe they are largely friend or foe to SME's and as Amazon continues to grow does this change? 
A. Despite some negative press in Australia especially about the Amazon threat I remain optimistic about Amazon being a friend to SME's.
My belief in this comes from my experience and Amazon seller engagement in the USA, UK and China marketplaces specifically. I have met numerous sellers in these markets, these sellers come from backgrounds of wholesalers and brand owners and have all been able to adapt to the Amazon model and make extremely successful businesses.
Amazon will continue to grow and their offerings will adjust – I do believe they will always need the sellers to work with.
Q. What is the biggest opportunity that you see for SME's in 2018 and beyond?
A. Marketplaces, whether in emerging economies or established markets, marketplaces are offering new ways to engage with consumers. The marketplaces usually present a place or trust from a consumer point of view and can offer services for logistics, payment and even customer service in some locations.
I see retail coming full circle in many respects and returning to the original retail footings of the middle eastern bazaars being replicated through online marketplaces. I encourage all retailers to review the marketplace presence and take advantage of the transparency that exists on them from a product and pricing point of view.
Q. What emerging technology do you see as the biggest game changer in eCommerce?
A. I have seen a lot of discussion about ChatBots – I feel that voice technology such as Alexa, Siri and other equivalents will be the biggest future game changer.
Like we saw with eCommerce revolution and mobile take up; barriers to purchase have been significantly reduced and power increased to the consumer. The voice technology possibilities in devices such as Google home, Alexa and Siri could see further barriers removed and another retail revolution take place.
Q. Where can people find out more about you and what you do?
A. Come along to one of our Retail Global events in Australia or USA – you will find plenty of retailers looking to sell more there as well!
*Note* If you are interested in attending Retail Global Gold Coast, as a eSellerCafe reader you can get $100 off your conference ticket by using the code ESELLER100 at the checkout.
---
Connect with Chris and Retail Global on Facebook, Twitter, and LinkedIn
Subscribe to Our Newsletter
We do not sell your information.
You can unsubscribe at any time.