Is Your Amazon Prime Day Deal Actually a Good Deal?
Amazon Prime Day is upon us yet again which means it's another sales event where the eCommerce giant promises a range of deals for buyers throughout the two-day period. Very similar to the types of promotions run through Black Friday and Cyber Monday but usually held in the middle of the year.
Don't Miss
For the last few years, Amazon Prime Day has been a huge draw for buyers who fill their carts to make the most of these deals, not only offered by Amazon themselves but also by many third-party sellers who are also encouraged to take part in the event by lowering prices across their range of products.
However, this begs the question…how good are the Amazon Prime Day deals? You see it is quite commonly known across the eCommerce landscape that Amazon isn't often the cheapest place to get your items, it is often the most convenient…especially if you are an Amazon Prime member.
A good example of this is if you do a quick search for the type of product that might be on your child's back-to-school list. A pack of 24 colored crayons. A search on Amazon tells me that I can get this exact product in 48 hours for $6.99.
If I head over to the Walmart website and look for the exact same product, I find exactly what I'm looking for just 50¢! A difference of over 92%! This is before either company is promoting any back-to-school deals on these products.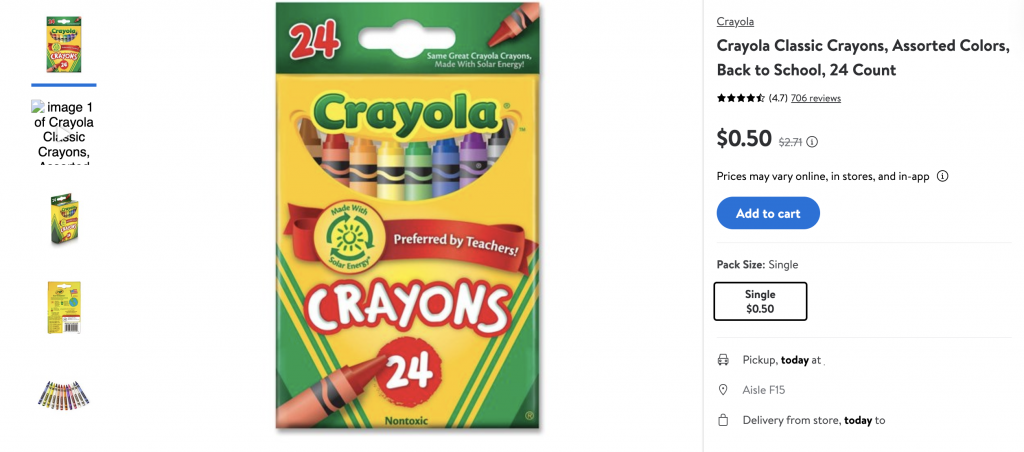 This begs the question…will the Amazon Prime Deals even be deals at all? Well, let's show you how you can find out.
How To Research Amazon Prime Day Deals?
Thanks to technology you no longer have to operate on just gut instinct or pages and pages of research to determine if you are being misled when it comes to deals online. I am going to provide you with two absolutely free resources you can use to determine if a product is actually good value for money, or if you are indeed being lied to.
#1 Honey
The first tool is something you may have heard of already, and it is a free browser extension called Honey. Honey was actually bought by PayPal back in 2019 and since then has grown and grown in popularity. Primarily being used as an extension that will find you coupon codes before you hit the checkout button, it also has a handy price tracking feature.
When Honey is active in your browser it can highlight to you what kind of price movements a product has seen. So if we use Honey on the same example as above, the 24 Crayola crayons, we can actually see how the price has increased 81% over the last 30 days!
If you click on the see price history link, it takes you to the Honey website which it shows you not only the price history for different periods but also the same or similar products that are available at other retailers and what their prices are in comparison. In this example, we can see that these Crayons are over $2 more expensive than they have been in the last 60 days. Perhaps in preparation for a "discount" on Amazon Prime Day?
*In full transparency, I did not go looking for a product to make this point…this was the first product I looked at, as it is on an elementary school supply list and it highlights the point I was hoping to make.
#2 CamelCamelCamel
A resource that is less well-known but arguably more powerful is camelcamelcamel.com. I have no idea where the name came from. But importantly it is a dedicated Amazon price tracker which also has a free browser extension available.
The best way to think of Camel cubed as I like to call it, is as a google search for purely Amazon pricing information. So let's move away from Crayola pencils and instead look at one of the Amazon Prime Deals that they have listed early this year.
At the time of writing (Monday 11th of July 2022) Amazon are listing in their deals section under toys, a remote-controlled car with two batteries with the little banner 'Top Deal' next to it. When you click on the product page Amazon is saying that the product is 25% off meaning a saving of over $20 which you can see here.
Now to see whether this is actually a good deal or not, I can copy the product URL into camelcamelcamel.com and see if this is in fact the cheapest this product has been. What we can see is actually quite interesting.
What this data tells us above is that this product is actually put on the deal very frequently. They put the price up to $80 for a few weeks and then drop it down to around the $60-$65 mark in order to make it eligible for an Amazon Prime deals page.
So whilst this is a deal, it isn't one that is hard to come by, and setting up an alert in CamelCamelCamel would make it easy for you to buy it at the deal price if you weren't in a hurry for it. The other most notable thing the graph tells us is this product was actually offered slightly cheaper in the Black Friday period for 2021 than it is just before Amazon Prime Day.
So whilst yes it is on a deal, it isn't as special, or even then best deal it has ever been.
This doesn't mean that there are not deals to be had. Whilst researching this article I also looked into a 55″ Sony OLED TV that Amazon was advertising as 23% off with a saving of over $300. CamelCamelCamel has confirmed that this is the cheapest that this product has ever been, it is a saving of $300 and Honey even backed up that this was the cheapest they could find the product across 5 other retailers listing the same model.
Savvy Shopping On Deal Days
The whole point of this post is not to slate Amazon Prime Deals, but instead to empower you as a buyer or even a seller to utilize the data that is readily available for free to sanity check what is being marketed to you on days like Amazon Prime Day or even Black Friday and Cyber Monday.
Amazon is in the business of making money and sometimes that means they will manipulate product prices over the course of months to ensure they can legally list something as a deal. With these tools, you will be better able to determine whether the deal you are being marketed with…is even a deal at all.
Subscribe to Our Newsletter
We do not sell your information.
You can unsubscribe at any time.