Moving From Bricks To Clicks
Despite economic uncertainty, nearly 7 out of 10 Americans say they plan to spend just as much for the holidays this year as in previous years. On top of that, 63% of Americans have claimed they will do all of their holiday shopping online due to concerns around COVID-19. This is a startling point for brick-and-mortar businesses who depend on foot traffic to increase holiday sales. Even more than ever, an ecommerce strategy is imperative for holiday retail season success.
Check Out These Resources
That transition from a brick-and-mortar business to online selling can be daunting. While there are many topics to address in setting up an initial online store strategy, let's discuss one of the biggest changes (and challenges) that comes with moving "from bricks to clicks": shipping orders.
For those dipping their toe into ecommerce for the first time, shipping orders the right way may be a slightly foreign concept. Below are three optimizations that will help start things off right.
Set Up Your Location for Shipping Success
Merchants who've never shipped products won't likely have an area dedicated to it. We recommend specifying an area for processing and an area for staging—one place to pick, pack, and print labels and one place for packages that are ready to ship.
The easiest way to miss a package or duplicate an order is to have these two piles mixed up. We've seen merchants create an assembly line approach with a long table, decidedly separate from a designated area for packages ready to go out the door. This also helps with something we'll talk more about later: carrier pickups.
Of course, designating areas relies on how much space merchants have. Some who are shipping from home may have less space to play with and may need to get creative. Once the holiday season truly kicks off and merchants are in busy mode, they'll be thankful they took this crucial step.
Let the Carriers Do the Work
Smart merchants take a multicarrier approach to shipping, and that's an integral part of this optimization strategy. Those who commit to a single carrier miss the opportunity to shop rates to compare them and save money. For example, when customers sign up for a ShippingEasy account, we provide a USPS and UPS account with discounted rates. Customers can then enter package information and compare rates side-by-side—an easy way to save time and money.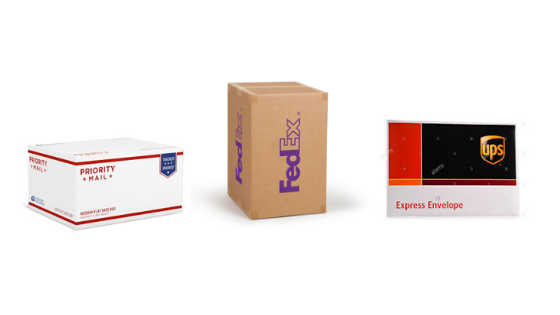 What many merchants don't realize, especially those new to shipping, is that most carriers offer free shipping supplies. Unless a merchant really wants to establish its brand with branded packaging, they can get free boxes, tape, envelopes, and more from major carriers like USPS, FedEx, and UPS for their most popular services. Even better, they'll deliver these supplies right to a home or business for free.
One of the easiest ways to save time when shipping packages is to skip the lines at the carrier offices. Scheduling pickups is convenient, and in the current climate, safer than waiting around in line with a pile of packages.
When shipping USPS, merchants can make scheduling pickups even easier by printing what is called a SCAN form. This takes all the barcodes from all outgoing packages shipping USPS and puts them under a single barcode. When the carrier comes by for pickup, all that person has to do is scan the single barcode and all packages are shown as picked up and entering the mailstream. Easy.
Automate Everything You Can
One of the things that makes shipping a tedious process is that much of it is largely repetitive. That opens the door for automation to vastly reduce the amount of time spent each day processing orders and printing shipping labels.
While automation may sound complicated, it's based mostly on shipping presets and if/then rules that trigger outcomes.
Shipping Presets
A shipping preset is a combination of carrier, service, package type, and possibly weight and dimensions of packages. Merchants are often shipping the same products on a daily basis, so the specifications of those shipments can be grouped together.
For example, if a merchant sells puzzles, most of those puzzle boxes will weigh less than one pound and have the same dimensions. Anything under one pound should always ship USPS First Class Package Service, as it's the cheapest shipping method for lightweight items. So, in this instance, a preset could be set for carrier (USPS), service (First Class Package Service), the dimensions and weight of the puzzle box. That preset could then be used to build an automation rule.
Automation Rules
Once that preset is created, it can be coupled with an automation rule. This can be done simply by weight (if product weighs less than 15.999 ounces, choose Preset A) or even by SKU (if order contains SKU #123456, then choose Preset A). These rules will trigger automatically to generate a rate quote to make a label purchase quick and efficient.
Automation rules can take multiple other factors into account, such as distance a package is traveling, which platform the purchase came from (a Shopify store versus eBay, for example), and more. Rules can also be prioritized to supersede each other when other factors come into play, taking the decision-making process out of the hands of a person. This saves time and reduces mistakes that could cost both time and money. While most merchants only require simple automation rules, they can build upon that base if and when order volume and product diversification increase.
Merchants who need to make the transition to online are running out of time and risk being left behind this holiday season. 78% of Americans plan to start their holiday shopping earlier this year due to concerns around COVID delivery delays. 22% have already started shopping, with nearly half of Americans saying they plan to start their shopping in September.
With proper planning and smart fulfillment, brick-and-mortar businesses can make the leap to digital selling and avoid missing out on what is still likely to be a robust holiday shopping season.
Disclaimer: The views and opinions expressed in this article are those of the author. ShippingEasy is an independent subsidiary of Stamps.com and Stamps.com is an advertiser on eSeller365.com.
Subscribe to Our Newsletter
We do not sell your information.
You can unsubscribe at any time.