Empowering Small Businesses: Onramp Revolutionizes Access to Working Capital Through Responsible Lending
Access to Working Capital poses a significant hurdle for small businesses, especially ahead of peak sales periods like the holiday season.
Check Out These Resources
To fuel their growth, many small business owners may resort to credit cards or second mortgages, but this can prove less than ideal.
Frequently, due to their inexperience in managing or understanding loan types, business owners struggle to make the right decisions regarding how to best use Working Capital loans.
This can lead to misusing Working Capital funding to pay for expenses that should be covered by other loan products, potentially putting the business at risk.
First, let's look at the two primary loan types and what they should be used for, and how a traditional Working Capital loan can become a trap.
Working Capital loans cater to short-term operational needs like inventory, marketing, or shipping and fulfillment expenses, while Capital Expenditure loans (CapEx) finance long-term assets such as buildings or machinery.
For this reason, CapEx loans, which are typically secured by assets, come with longer pay-off schedules, often ranging from five years and up. On the other hand, Working Capital loans have a shorter term length designed to help business owners manage business cycles.
But if you are inexperienced in managing Working Capital loans, and especially if you use a credit card or home mortgage where you can extend payment schedules, it can quickly lead you into a spiral of debt.
For instance, driven by entrepreneurial optimism, small business owners may overstock inventory before a peak sales season, potentially leading to excess inventory they must sell afterward at a discount or loss while paying interest rates over an extended period.
Of course, the same can happen with marketing or a combination of the two.
Subsequently, to save the business, the business owner may decide to double down and tap the same funding source to pay daily expenses. Although this falls under a typical Working Capital loan expenditure, it results in further extending the loan and "secretly" adding interest to the original loan.
But it can also create other issues with obtaining CapEx loans for necessary upgrades. CapEx lenders will often take a more in-depth look at a company's financials and when they see a heavy debt load, they may not extend a loan offer.
Some business owners may then choose to pay for a CapEx with a credit card or home mortgage, adding even more interest and expense to business overhead.
Before it's too late, small business owners can easily be trapped in a vicious cycle, attempting to dig themselves out of a business that had promise but is now overloaded with debt due to financial mismanagement.
Onramp – The Better Solution
Onramp is a financial services company that employs technology to help small business owners access working capital responsibly.
First, they evaluate the business's sales history and, using a proprietary algorithm, estimate a reasonable loan amount based on this historical data.
Second, they offer shorter-term loans from 30 to a maximum of 150 days, providing business owners with a workable payoff plan based on estimated sales growth from the funding they provide.
Third, Onramp offers a fixed price for the cost of financing, regardless of how long it takes to pay off the loan. Thus, if sales do not materialize as expected, small business owners will continue making payments based on revenue received with no penalty or additional interest.
This type of financing is known as a Revenue-Based loan, offering the benefit of no added interest or penalties as long as regular payments are made when revenues are received. Of course, if sales stop, then the loan becomes immediately payable.
The best part, Onramp's Working Capital loans are based on your sales history, not your credit rating. As a matter of fact, you do not guarantee the loan personally, which is also very different from a credit card or home mortgage solution where you are personally liable.
Because Onramp is evaluating your business, not your credit rating, its proprietary model is designed to foster responsible growth of your business.
Onramp wants you to be successful and wants you to come back for more loans when appropriate for your business. It's even possible for borrowers to become eligible for more working capital after paying off only half of the original loan.
This is an incredible flexibility as you can get additional working capital from Onramp if your business exceeded expectations, and you could use more funds to continue the growth.
At this point, you may think Onramp is expensive, but they are keeping the cost of their loans in line, at a price point that is affordable to small business owners. Of course, one method is by keeping a "tighter" leash on your borrowing and only extending as much credit as they feel comfortable with based on your past sales history.
They are not investing in your company, they are not providing funds based on a "business plan," they are looking at it neutrally of what makes financial sense.
So, you may not get the loan amounts you hoped for initially. But once you prove yourself, you can get more funding from Onramp when you paid half of your loan back (assuming you are within the original estimated payback terms).
This is why Onramp's approach to Working Capital lending is a sustainable and responsible method for small business owners. It also provides you with an independent view of what they believe about your business's prospects, not a credit rating or equity in your home.
There is no requirement to accept an offer once you apply. You can go through the process and if you are not happy, that's okay, there are no fees to apply and no soft or hard credit check on your personal credit.
How Does Onramp's Application Process Work?
Before you dig up your shoe boxes of receipts (you won't need them), let's take a look at the easy steps for requesting a Working Capital loan from Onramp.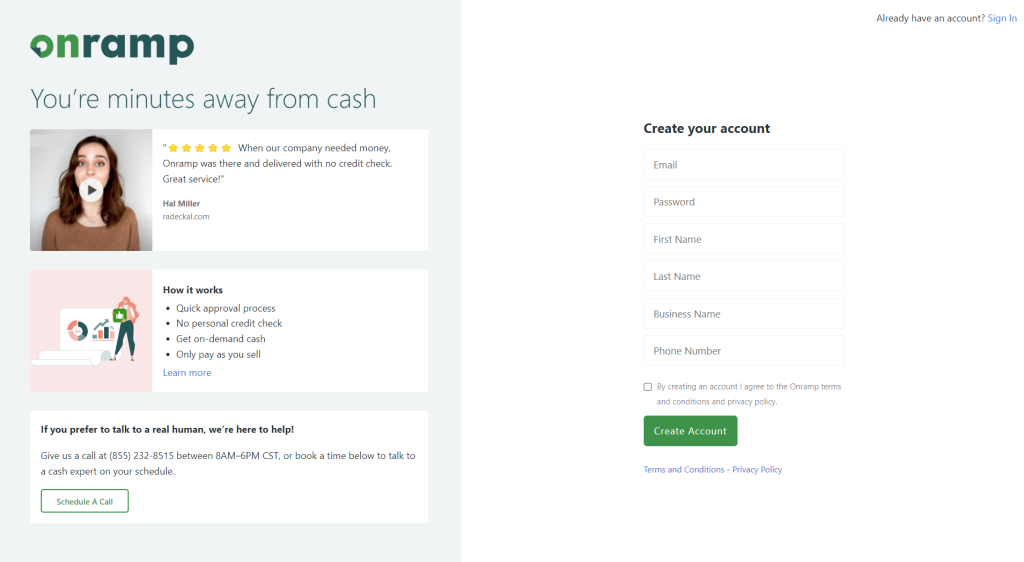 Once you've provided basic information about your company, Onramp's system will proceed and ask you for a few more top-line details about your business.
In this step, the system will prompt you to connect your ecommerce channel(s) to allow Onramp to retrieve the necessary information for evaluating your business.
After receiving all your sales data, Onramp will assess your company's history to determine the Working Capital amount you are eligible for.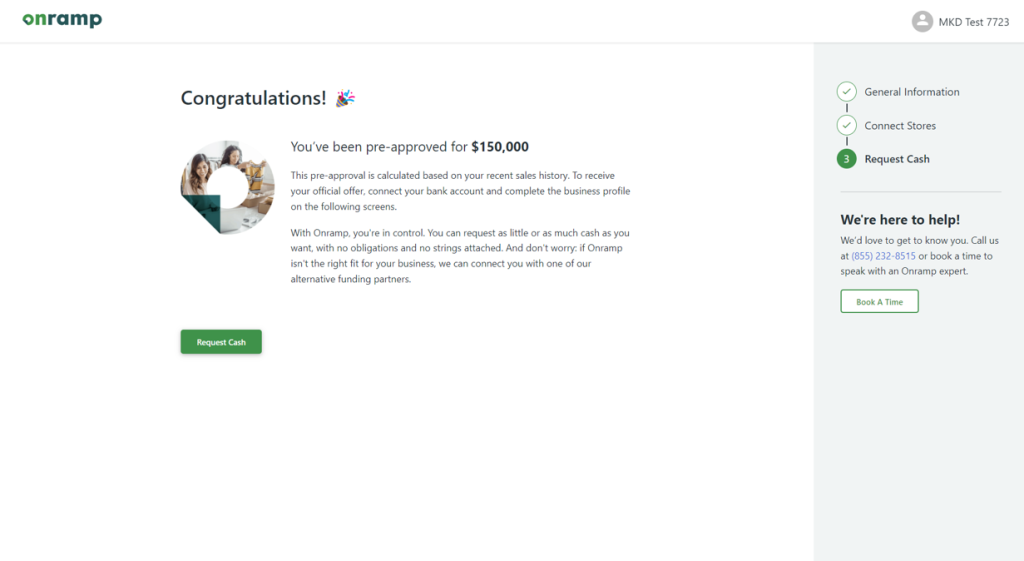 You are not obligated to take the full amount. Instead, you have the freedom to choose only the specific amount you require, and you can select that precise sum before proceeding to the next step.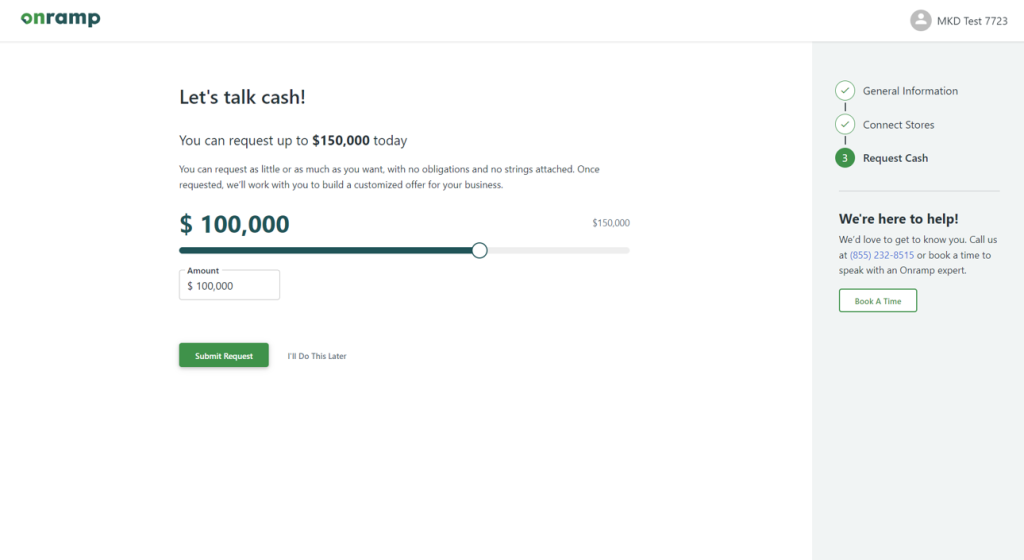 Next, you'll be asked to furnish Onramp with additional business profile information, which includes items such as your articles of incorporation, EIN tax letter, and access to your bank account.
The bank account you provide should be the one where you receive payouts from your sales channel or payment processor.
To ensure the security of all connections and bank/financial transactions, Onramp utilizes Plaid, a trusted platform widely used by major financial services companies and most banking institutions for secure data exchange.
In the rare instance that your bank is not available on Plaid, you can have Onramp review your PDF bank statements. For further details on this process, please reach out to them directly.
While this step might be considered the most "complex" part of the application process, it is necessary for Onramp to gather pertinent information about your business entity.
Should you require any assistance or clarifications during this phase, you can always seek help from the company by phone.
Now, here's the exciting part. Onramp doesn't limit you to just one repayment option for your Working Capital loan. Typically, they will email you up to three choices, each with a different fixed-price loan cost. This approach empowers you with complete control and transparency over the cost of your loan.
Again, the cost of the loan remains fixed over the term of your selected loan. Even if you surpass the original loan term, the cost will not change as long as you maintain making payments.
However, it's crucial to select a loan term that aligns comfortably with your business finances. Simply opting for the lowest-cost term may impact the amount of money you can borrow from Onramp in the future if you don't repay the loan within the original terms.
Responsible financing entails accepting terms that suit your business. As Onramp gains a more in-depth understanding of your business, they may offer even better terms in the future.
Conversely, if you miss your target payback, it can affect their risk assessment for your business, potentially altering your future loan offers.
Fundamentally, Onramp uses a lending approach that aims to support your business in staying on track and providing opportunities for your growth.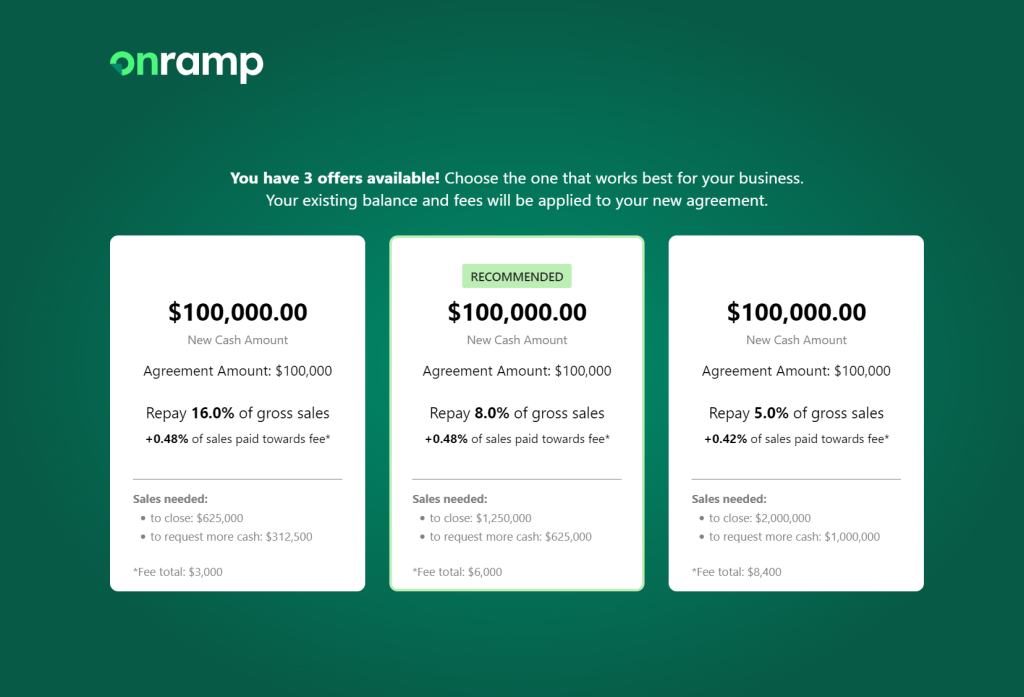 After selecting the suitable Working Capital plan for your business, all that remains is to accept the loan terms, and the payment will be promptly sent to your designated bank account.
The frequency of repayments may differ based on your sales channel. Additionally, in the event of any changes to a sales channel's payment schedule, you can simply get in touch with Onramp, and they will assist you in making the necessary adjustments.
Once you agree to the terms, Onramp will proceed to send the payment to your bank, typically within the next business day, although the exact timing may depend on your bank's policies.
The process is hassle-free, and there's no need for you to produce financials or boxes of receipts.
Onramp efficiently retrieves the necessary data from your sales channel(s) and bank to facilitate your Working Capital loan, ensuring a swift transfer of funds. This allows you to promptly invest in additional inventory and allocate resources for marketing to bolster your sales efforts.
A few more points not covered in the walk-through.
Your business must be a corporation, LLC, or partnership. It cannot be a sole proprietorship.
The bare minimum for Onramp to consider your business for a Working Capital loan is 30 days and $3,000 per month of sales during those last 30 days. However, it's best to have at least 90 days of sales history. Ideally, their program is best for companies with about $200,000 in annual revenue.
Furthermore, you must be selling physical products. Currently, they will not accept companies that sell digital products.
Final Thoughts
Onramp is a newcomer in the Working Capital industry and has quickly established itself in the two years since its founding. Its product is tailored for small businesses, providing valuable support to help small business owners to scale their company responsibly.
Eric Youngstrom, the founder and CEO of Onramp, brings a wealth of knowledge gained during his eight-year tenure at ShippingEasy and Stamps.com (Auctane), where he held senior positions and played a significant role in helping small businesses thrive.
The team at Onramp includes other individuals who also come from ShippingEasy, sharing the same dedication and passion for this venture.
Unlike traditional bankers focused on boosting a segment's bottom line, the team genuinely aims to offer an innovative Working Capital program to ecommerce merchants, aiding small business owners in their success.
Their objective is to empower small business owners and build a loyal customer base by supporting them at every stage of their journey.
Onramp leverages technology to streamline the lending process, relying on the health and performance of the business rather than simply assessing credit scores when making lending decisions.
Simply put, it's a better way to scale your business. Learn more here.
Subscribe to Our Newsletter
We do not sell your information.
You can unsubscribe at any time.