Seller Ledger Releases New Feature Simplifying Quarterly Tax Payments
Seller Ledger has introduced a new feature to simplify the process of calculating tax obligations, just in time for third-quarter estimated IRS taxes due soon.
Check Out These Resources
As a reminder or for those that are new to selling online, the Internal Revenue Service (IRS) requires individuals and businesses to make quarterly tax payments, often referred to as estimated tax payments.
This method allows taxpayers to pay their income taxes in smaller, periodic installments throughout the year, rather than making a single payment at the end of the year.
Seller Ledger Simplifies Tax Payments
These payments become necessary if the income is not subject to withholding or if the tax amount withheld from the income, such as from a regular job, does not adequately cover the total tax liability for the entire year. When selling online, profits fall into this category.
Seller Ledger now takes the pain out of calculating quarterly tax payments with a new 'Quarterly' taxes tab that can be found under the Taxes section. When selecting this tab, users are directed to a screen resembling the following: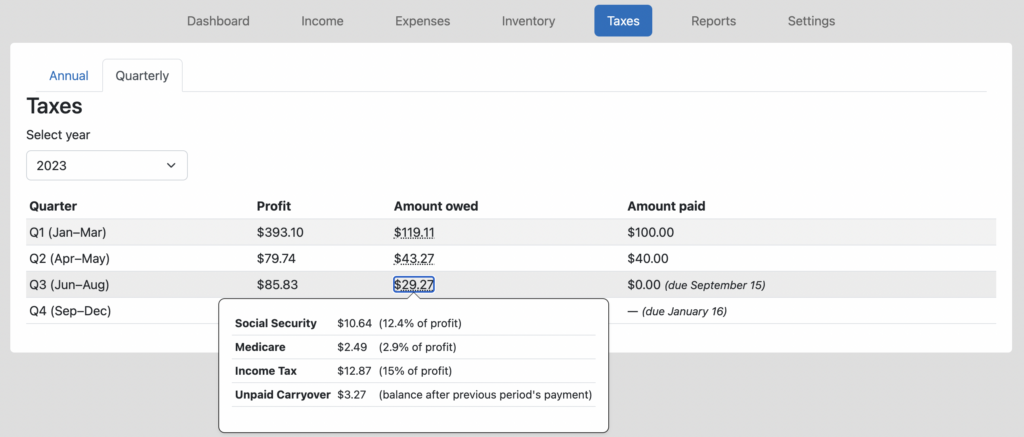 The program will provide an estimation of quarterly tax payments based on the cumulative business results up to the present date of the selected year. Additionally, the feature displays the accurate payment deadlines for each quarter.
Seller Ledger will calculate the correct rates for Social Security and Medicare while allowing users to choose the applicable federal income tax rate for their specific situation. (This option can be located in the new 'Business' tab within Settings.)

In cases where an individual overpays or underpays in a particular quarter, the program retains this information for subsequent quarters.
To log these payments, users can simply utilize the recently introduced 'Estimated tax' category, which has been seamlessly incorporated into their accounts. This enables Seller Ledger to appropriately apply the payment.
Seller Ledger was launched earlier this year to fill the gap left by GoDaddy shutting down its low-cost and simply-to-use bookkeeping service, originally founded by Kevin Reeth and Ben Curren.
Reeth is the driving force behind Seller Ledger and brings a wealth of knowledge to the business, helping small sellers manage their accounting needs, specific to marketplace sellers and small online merchants.
Seller Ledger offers direct integrations into eBay and Etsy, and other sales channels.
Subscribe to Our Newsletter
We do not sell your information.
You can unsubscribe at any time.