Urban Area Drone Delivery is Now a Reality
Ask the average American about Reykjavik, Iceland, and some may recall a cold war summit between President Ronald Reagan and General Secretary of the Communist Party, Mikhail Gorbachev.
Check Out These Resources
Historians credit the summit with thawing relations between the two cold war adversaries. Eventually it led to a major reduction in the nuclear arsenal by both the U.S. and the Soviet Union.
REYKJAVIK NOW HAS A HISTORIC PLACE IN ECOMMERCE
AHA, one of Iceland's largest eCommerce companies partnered with Flytrex, an Israeli based drone delivery operator, to offer the world's first commercial drone deliveries in an urban area.
The initial phase of the project is a designated route between two points crossing the bay that divides much of the city of Reykjavik.
This simple implementation of Drone deliveries will already save hours of time wasted by delivery drivers crossing busy bridges.
Deliveries that used to take 25 or more minutes can now be completed in a fraction of the time.
The Icelandic Transport Authority approved this project to pick up orders from retailers and restaurants on one side of Reykjavik and fly them to a designated drop-off point across the bay in Grafarvogur.
"In the recent months there has been a tremendous increase in our online delivery orders, especially in the retail products and we are forecasting a very expedited growth in the grocery deliveries in the coming months.Over the last 4 years we have been monitoring online delivery solution technologies around the globe, and feel that Flytrex has a smart, safe and commercially viable solution to the problem. We hope to co-operate with them not only in Iceland, but also internationally in the future."

Maron Kristófersson CEO of AHA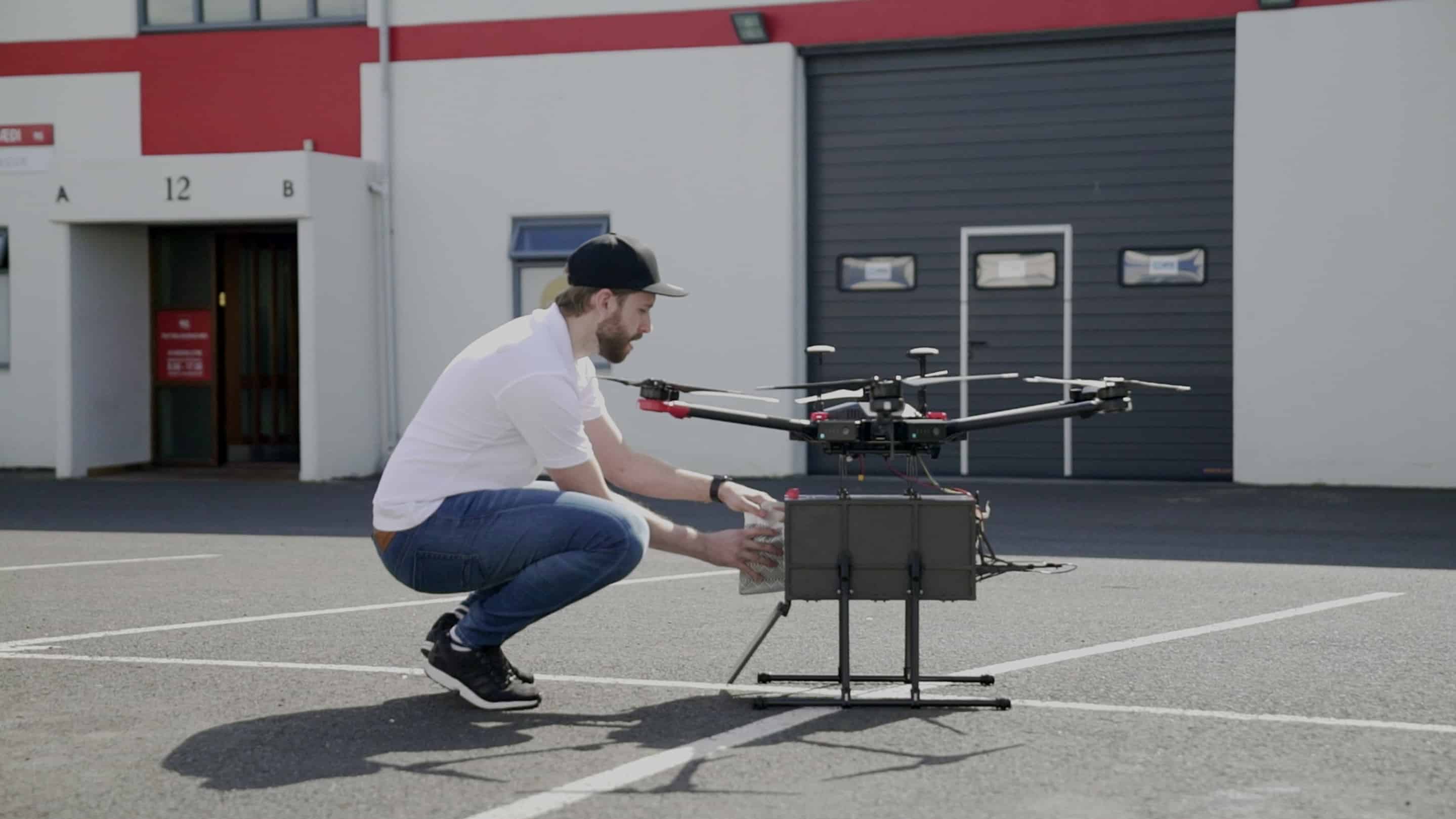 A LITE VERSION OF THE AMAZON DRONE VISION
In 2014, Jeff Bazos "shocked" the world on the CBS program 60 minutes about the development of delivery drones. He envisioned a centralized warehouse flying drones with packages to the customer's location.
To date, Amazon and others have mostly used drones in experimental projects developing a last mile solution.
Regulatory approvals has been a significant hurdle, even forcing Amazon to test drones outside the U.S. for a while.
The AHA Flytrex partnership to bring real world commercial flights to an urban area is a major stepping stone to fulfilling the vision by Bazos.
NEXT STEPS
The next phase of the Reykjavik project will likely add additional drop-off points to the delivery network.
As this and similar projects move along, the next challenge will be to gain approval for delivery directly to the customer's addresses.
This solution may involve any number of ideas from landing beacons, to GPS coordinates, to using an alternate addressing or location system like What3Words.
The real world implementation of this project is an interesting use of delivery drones, as it solves a geographic obstacle. In this phase, the drones are supplemental to human courier delivery and allow Flytrex to gain valuable real world experience.
What do you think about where done deliveries are heading? Are we steps closer today then six months ago? Let us know your thoughts in the comments section below.
Subscribe to Our Newsletter
We do not sell your information.
You can unsubscribe at any time.