Walmart's New TrendGetter Image Search is Embarrassing
Walmart launched a new image search web app called 'TrendGetter' allowing shoppers to find products on their online marketplace. But it's a disaster!
The pitch: "TrendGetter makes it easy to spot must-haves this holiday season and shop them for a low price at Walmart."
"We've all been there. You're scrolling through your Instagram feed and your favorite influencer is wearing the must-have accessory of the season," said Casey Schlaybaugh, Vice President of Brand Strategy & Marketing at Walmart.
"Or you're watching the latest viral TikTok video, and you find brag-worthy home décor. Maybe gifting inspiration hits for the hardest person to shop for on your list during your favorite TV show.
"The problem? You can't find a shoppable link or any product details, or it's way out of budget," she explained.
Target audience: Walmart is clearly targeting younger and trend-conscious consumers, looking for stylish or unusual items that are often difficult to describe.
As the first Gen Zers enter their early to mid-20s, they are increasingly becoming the next generation retailers want to attract.
With Gen Z having grown up on smartphones and eCommerce, online merchants and brands must build experiences they are comfortable with.
Let's face it, Walmart is probably not the first on- or offline retailer that comes to mind with Gen Zers for style and fashion shopping.
Therefore, building a user experience that attracts today's young consumers to the online platform is critical in building a long-term relationship with them as they go through the stages of life.
The problem: Walmart botched this rollout horribly.
In the software world, there is a concept known as Minimum Viable Product (MVP), which means the app or software has enough features to attract early adopters.
But Walmart's TrendGetter image search fails on so many levels it's hard to imagine this is anything but an early beta.
Web App: Gen Zers spent much of their online time on smartphones, and Walmart even transposed a mobile version of its TrendGetter site on a phone screen.
However, that is highly misleading as TrendGetter is a web app that lives at trendgetter.com and must be accessed with a web browser.
It's not integrated into its mobile app and requires users to go to its mobile-friendly website to upload an image, which then is processed and sent to the Walmart app for results (or website if the app is not installed).
By comparison, in 2017, eBay launched image search in its mobile app, enabling users to search for products in most categories.
For a launch product, eBay's implementation was impressive, especially given the variety of products the new feature identified and able to find relevant items on the marketplace.
Amazon dabbled with the technology in its app a year before, adding a Parts Finder feature for shoppers to find small replacement parts like nuts, bolts, etc.
Since then, both companies have updated their image search features, improving on the objects they could identify and fine-tuning relevancy in search results.
But to stress a critical difference again between Walmart and eBay/Amazon image search launches is that Walmart chose to use a web app instead of natively integrating the feature in its mobile app.
Simply put, it's clunky and not a good user experience, especially if the aim is to target younger shoppers. But it gets worse!
TrendGetter Product Test
Product identification and search results: TrendGetter has problems identifying common products from a typical image and finding relevant products on Walmart.com.
Schlaybaugh suggested the new feature will allow users to quickly find products based on a social media image or video screen grab.
But many of these are not isolated product images, as found on Walmart.com or many other online stores, but lifestyle images.
Usually, most users would pick an image with a person wearing a product with a colorful and often "messy" background, that may even have some unusual lighting to slightly skew product colors or details.
Identifying the product accurately the user wants to find requires the algorithm to eliminate image noise and "extract" the item to find relevant results.
The results: I ran a few tests using TrendGetter by Walmart to learn how well this feature works out of the box.
First, I used two images from Sophia Flörsch, a German female professional race car driver, who has a popular Instagram feed documenting her racing life, but also where she showcases sponsored products.
Using the White Beach Hat image, TrendGetter's top result on Walmart.com was a Toddler Boys' Trapper, followed by a Panama Hat, a Grinch Knit Hat, and finally something a little closer, a Women's Junior Bucket Hat.
All of these items are greenish/olive-colored. Where is this color in the image? But even more perplexing are the first three choices surfacing products that have no reasonable resemblance to the White Beach Hat.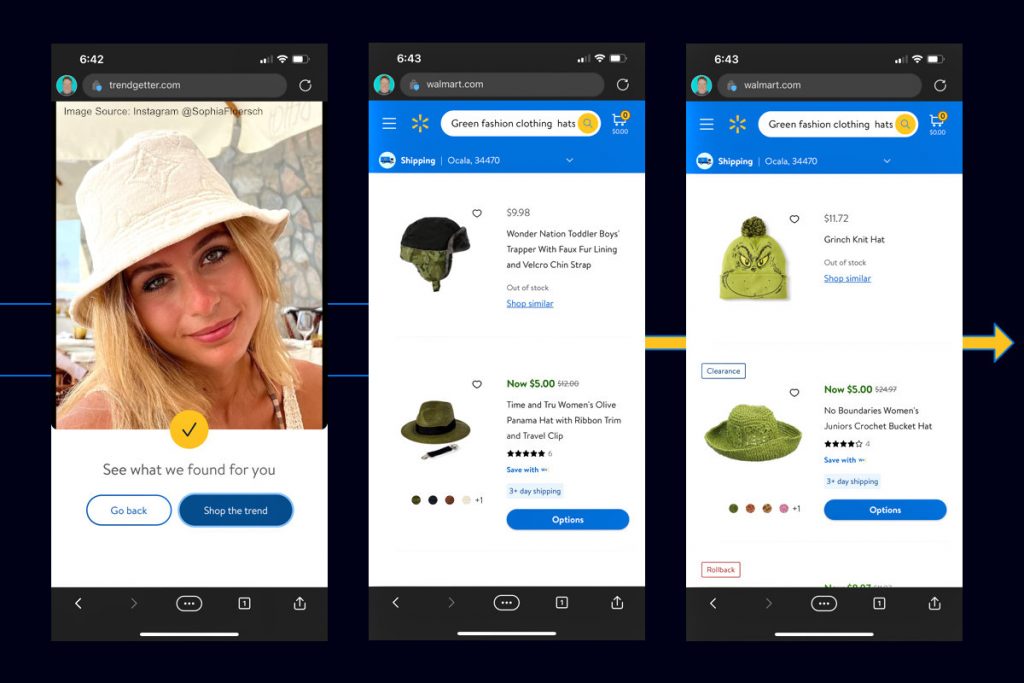 Moving to an image of Sophia wearing a Black Lace Summer Dress for a party. Here I used a feature in the TrendGetter web app to focus on a specific area in the picture to search for a relevant product on Walmart.com.
The top 4 results from this search (excluding sponsored listings) surfaced summer dresses. However, it wasn't until the fourth item that Walmart's new image search suggested a lace dress, more in line with Sophia's dress.
Scrolling further in the results revealed more dresses, but the style increasingly diverged further from the original dress.
Dresses usually have several color options. While no pictures showed a black dress, several product listings (including others not shown) offered a black or dark dress color choice.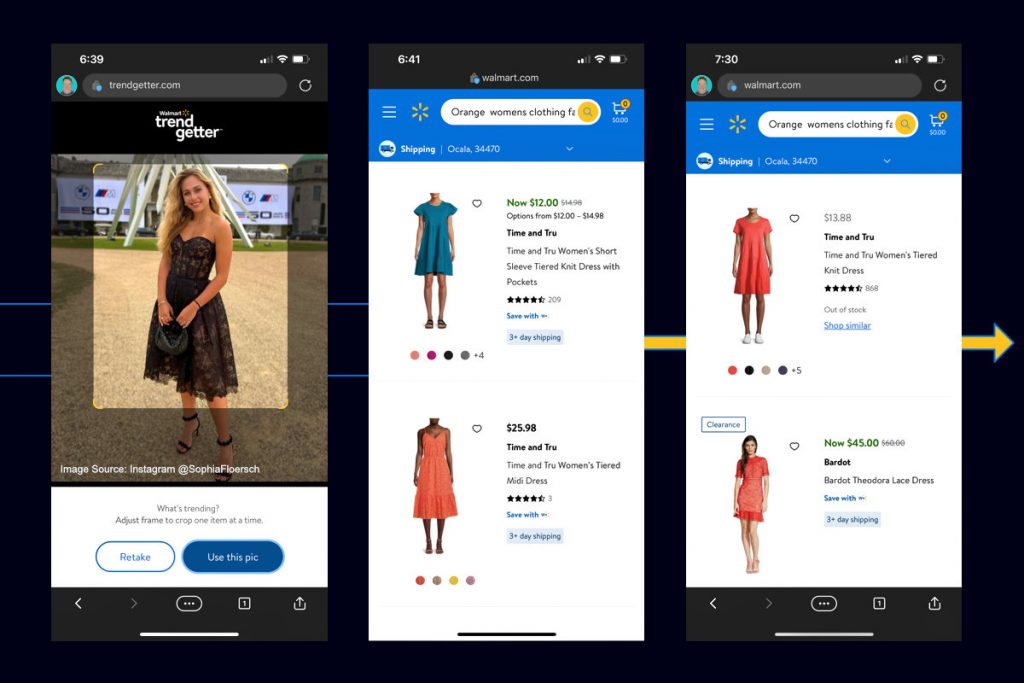 Now we enter the weird zone with the third test using a professional product image depicting the Louis Vuitton x Nike Air Force 1 Low sneaker.
The suggested top results in order were: Ozark Trail (Walmart brand) Toddler / Boys Hiking Boots, Wonder Nation brand Toddler Girls Water Sneakers, Portland Boot Company brand Men's Causal Lace-up Boots, and Rugged Bear brand Lace Up Unisex Casual Boots.
At least they were all footwear, but that's about as close as it got.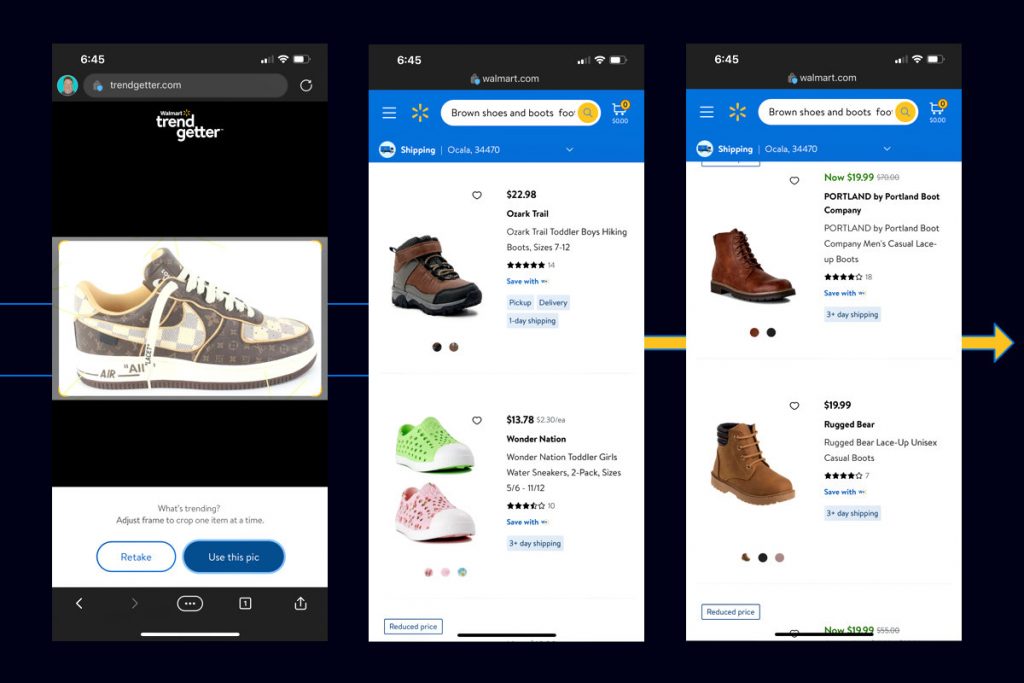 Finally, I took two pictures of my Apple EarPods case and ran those pictures through TrendGetter.
On a black background with some lighting noise from my monitor coloring one area slightly greenish, the algorithm believed I was searching for canned vegetables. Yes, these are the real top 4 results!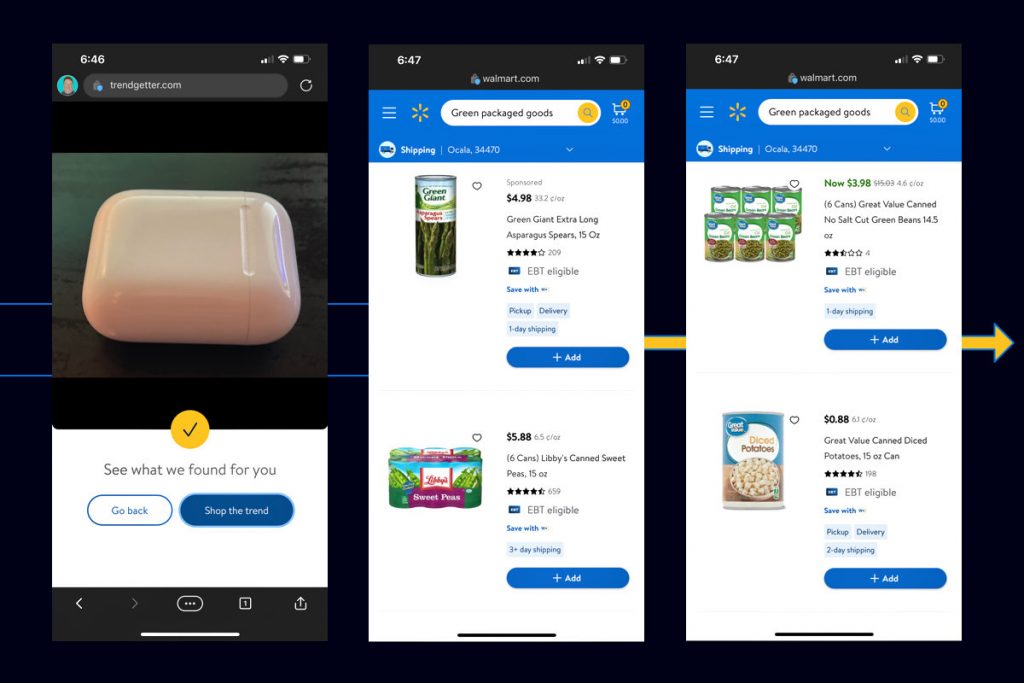 Changing the background to a brownish earth color, eliminating the color noise from the monitor, TrendGetter's top 4 suggestions for my EarPods case were: White Plastic Wedding Plates, White Plastic Tablecloth, a set of Small Decorative Baskets, and Plastic Clothing Hangers for Pants and Ties. Yikes!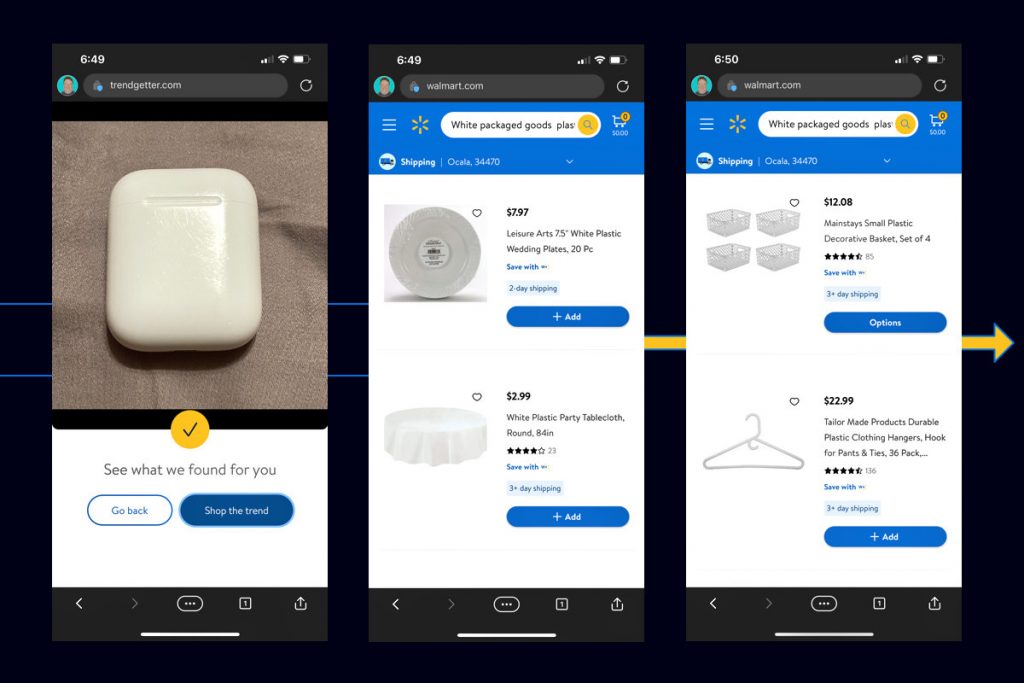 I ran these same images through eBay and Amazon's image searches on their app — and while not perfect — the top results ranged from acceptable to spot on.
Technology is only part of the problem: It seems to me that the TrendGetter by Walmart suffers not only from technology issues but also the Walmart.com marketplace is just absent of the broad products that can be found on either eBay or Amazon.
I did check, and Apple EarPods are sold on Walmart.com. So, in that instance, the problem wasn't a lack of available products.
Also, when entering the words "White Beach Hat", "Black Lace Summer Dress", and even "Louis Vuitton x Nike Air Force 1 Low" without using the term sneakers, Walmart.com's search results surfaced relevant results, similar to these products.
No Louis Vuitton x Nike Air Force 1 Low sneakers, but at least sneakers, including some with a very vague resemblance to these Nikes.
Still, the variety of inventory on Walmart.com lags behind Amazon and eBay, often resulting in few choices that resemble the products shoppers might be looking for.
I used the shipping option as my default delivery method on Walmart.com to ensure the search would look at all products.
Yet, many top product suggestions — I ran other searches with equally poor results — seemed to first showcase a Walmart-owned or major brand in retail stores.
And let's be honest, Walmart isn't the place setting fashion trends, so the more unique or interesting items Gen Zers would be searching for are more likely to come from marketplace sellers on Walmart.com.
TrendGetter, the party game: Walmart really blew it, especially if they wanted to attract Gen Z and younger shoppers with this TrendGetter image search.
It's clunky user experience living on the web, instead in the mobile app; poor search results from what clearly is technology not even at the MVP level, and the online marketplace's lagging relevant choices for this generation will turn off this demographic quickly.
Tech-savvy shoppers, regardless of age, won't jump through hoops by first editing images to improve search results when other options, such as eBay or Amazon, offer a much better user experience.
Ultimately, TrendGetter is a better party game (snap a pic of an object and guess what it might find) than a search tool for exciting and trending products.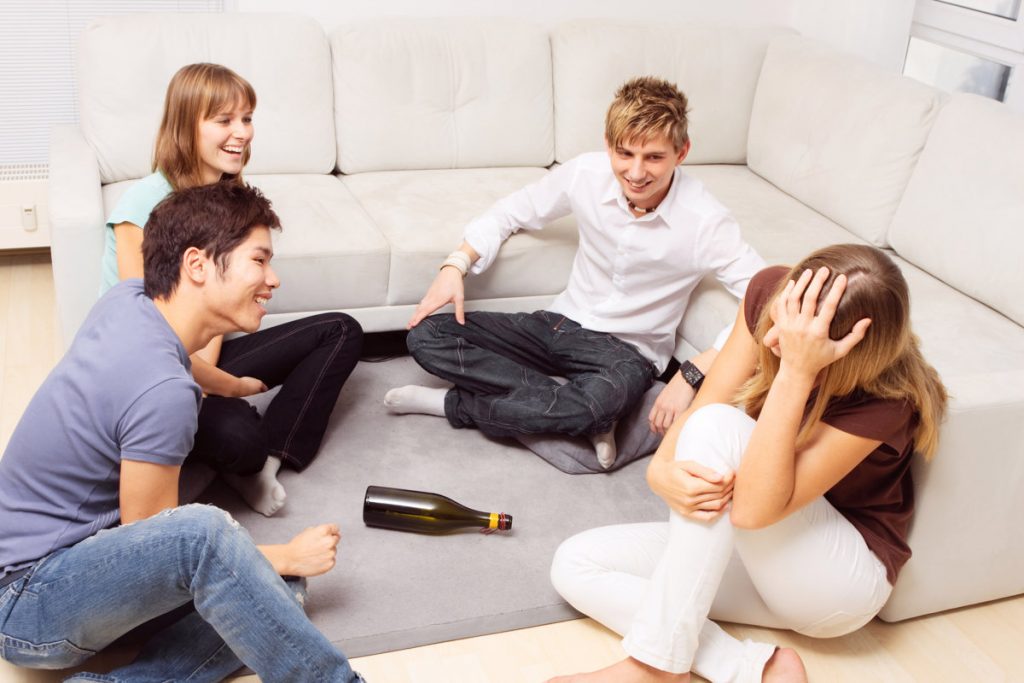 Dump it now: Walmart should quickly and quietly shelve this project before it permanently damages the company's eCommerce reputation with young consumers.
TrendGetter.com in its current form is a tech embarrassment that should have never seen the light of day!
Richard Meldner
Richard is co-founder of eSeller365. He has over 17 years of experience on eBay which includes tens of thousands of sales to buyers in over 100 countries and even has experience with eBay's VeRO program enforcing intellectual property rights for a former employer. And for about two years Richard sold products on Amazon using Amazon FBA in the US.
To "relax" from the daily business grind, for a few weekends a year, he also works for IMSA as a professional race official.
Subscribe to Our Newsletter
We do not sell your information.
You can unsubscribe at any time.